On our first day at Ramona Canyon, a gentleman by the name of Robert stumbled down to our campsite while I was setting up the HughesNet satellite dish. He had a can of beer in his hand and it was obvious he'd spent the better part of the afternoon sitting outside his RV sucking down cold ones. He took a seat at our picnic table, lit up a cigarette, smiled and proceeded to tell me about his life and some of his experiences.
Robert is 52 years old, same as me. He reminds me of a guy I knew as a kid, a friend of my parents that we called Uncle Dave. His teeth are in pretty bad shape and his face is deeply lined with wrinkles but when he smiles he lights up the place.
He tells me he usually doesn't talk to people in the park but felt comfortable with me right away. He said he'd just come through a divorce and he and his ex sold their house and property and were splitting the profits.
His mother was living on their property in her motorhome at the time. She and her husband retired to a life on the road, but when her husband passed away, she was unable to keep traveling.
With no more house, Robert moved in with his mother and off they drove. Along the way they picked up his son and the three of them plan on going to Kentucky as soon as the proceeds from the sale of the house come through.
He told me he'd lived a rough life, rode motorcycle and hung out with Hell's Angels, spent time in jail and was now trying to find a new direction for his life.
I was still tinkering with the satellite, trying to get a strong signal but it was getting dark and I was over it. I was about to give up and go inside for the night, when Robert suddenly became excited and said he had to go get something to show me.
He came back a few minutes later with a small plastic envelope which held a photograph. He said he had fallen on hard times a while back and he and one of his sons were digging through trash bins looking for cans when they came across a cardboard box filled with old photos. Among them was this one. I took a look. It was badly worn and a bit wrinkled but I knew right away that it was a candid shot of Elvis and Priscilla walking on the deck of a boat. Robert said he had been holding on to this photo for a long time and kept it tucked away in his Bible.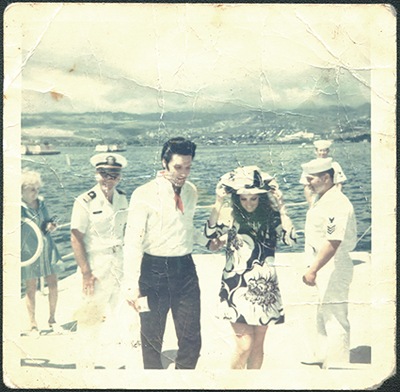 After much research, this is what I found out about this photo: Elvis and Priscilla arriving at the USS Arizona Memorial in Pearl Harbor on Memorial Day, May 27, 1968. The woman in the background is Joan Esposito. She's carrying Priscilla's purse. Elvis has a brochure for the USS Arizona in his hand.
He wanted me to keep it and try to sell it on Ebay for him, saying we would split the profit. Naturally I loved the photograph, but I told him I couldn't keep it and I don't make agreements unless everyone is sober. He took offense to that and insisted that I keep it anyway, so I did.
The next morning Robert came back to retrieve the Elvis and Priscilla photo. I suspected he would, once the alcohol wore off. But to my surprise, on the day we departed Ramona Canyon, as we were driving off, he waved us down and handed me back the photograph.
He said he didn't have an address but gave me his son's cell phone number as a way to contact him. I felt honored that he would entrust me with his treasure. He tried to convince me it didn't mean much to him, but I could tell it was a hard decision for him to make.
So now Elvis is aboard, safely tucked away in my fireproof box. Ebay his next stop.