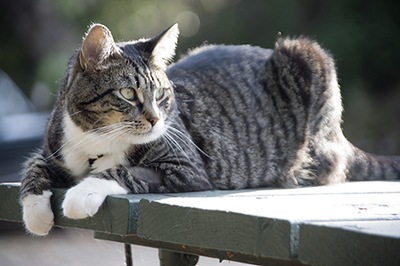 Benny Contemplating His Lost Life
We were originally going to stay at Ramona Canyon, an ROD RV resort in Ramona, CA for 17 days so we could get back on our Wednesday moving day schedule. But the day after we arrived, Parry noticed that Benny was spending alot of time in the litter box. I took a look and knew right away he was in trouble, so I jumped on the internet to find a vet close by that could help us.
One of the downsides of being on the road is not having a regular vet you can trust who knows your pets and you. I generally use my gut feelings when searching on the web for help, in this case I chose right.
We couldn't call ahead because we had no cell phone service at the campground, so we just jumped in the van and headed into town. We weren't even sure the van would make it back, but we had no choice.
We drove to the High Valley Veterinary Hospital in Ramona, CA. Shelly and Tammie were at the front desk and they took Benny in right away, no questions asked. A few minutes later we met with Dr. Gordon, who explained they were going to pass a catheter into Benny's penis and attempt to unblock him and empty his bladder. Then they'd get as much liquid through him as possible to wash out any remaining crystals. She suggested he stay the night, so we left Benny in their care and headed home.
The next day around 4:30pm we drove back to town to pick Benny up. Dr Gordon ran some blood tests and assured us that we caught it in time to avert any internal damage. She also took an Xray to make sure there were no larger stones inside that might require surgery to remove. She gave us antibiotics, some medicine to help him regain muscle control over his overstretched bladder and some food to help dissolve any remaining crystals.
That night and the next day we watched him to make sure he was peeing. He seemed to be doing OK, but was eliminating only small amounts of urine. He wasn't too crazy about the food either but managed to eat some.
Two days after he came home, he looked like he was having problems again. I cleaned out the litter box and there was no pee to be found. We had to take him back.
Once again we rushed Benny to High Valley Veterinary Hospital. This time Dr. Mueller was there. She gave us two options, either do the catheter again or take him to a surgeon who would do an operation where they would cut Benny's penis off to create a larger hole for him to pass urine through.
The catheter was another $400, the operation, $3500. The operation, although not without risks, would keep Benny from ever blocking again. There was no such guarantee with the catheter. To make things worse, it was the Friday before Memorial Day and if we did the catheter, we would have to pick Benny up later that day and take him home because there would be no one at the vet's office who could watch him. The other choice would be to take him to an After Hours Emergency Care facility where they would watch him for a couple of hundred dollars more.
At this point we'd already spent $794.00. $3500 was definitely not in our budget. The only way we could manage that amount of money right now would be to borrow it.
My eyes started to tear up. I didn't want to lose Benny, but we just couldn't afford the operation. The timing was really bad. Do we borrow $3500 to replace the transmission in the van or to save Benny. There's no way we could go into debt for $7000.
I hated having to choose between love or money. If we put him to sleep, I'd have to live with that guilt for the rest of my life. If we spend the money, we'd be putting ourselves in a dangerous position financially.
We chose the catheter. At 5:00pm we picked Benny up and brought him home. That night he got lots of extra attention. I had trouble sleeping worrying about him. If something happened over the weekend we would have to put him to sleep. We'd already spent $1180 trying the catheter and just couldn't afford more. The cost would be especially high because of the holiday weekend.
So we cherished what might be our last few days to spend with Benny and prayed he would make it.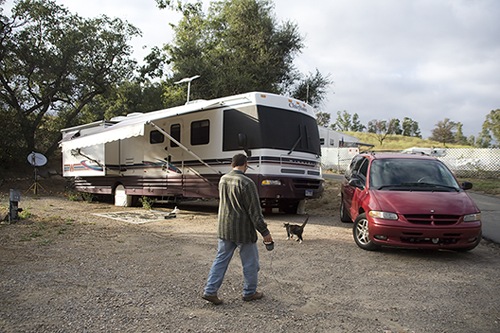 Benny Heads Home
Benny made it through the weekend without getting blocked again. Dr. Gordon ordered special food that both Benny and Buddy like to eat that's supposed to keep their urine a neutral ph and keep the crystal buildup away. She told us that no matter where we travel, she will make sure we have prescription food for them.
We ended up extending our stay to our maximum of two weeks just to be sure Benny was OK. So far he's been peeing like a champ. Thankyou Dr. Gordon, Dr. Mueller and the staff of High Valley Veterinary Hospital for saving Benny's life.