The other night I dreamt I had lost my pants and I was trying to get home to put some clothes on, but I had to climb this huge hill first. So there I was running up this hill, the summit so far away, determined to make it to the top before I got arrested for indecent exposure. Seems to be a recurring theme.
We've been on the road now for 11 months and although I've put alot of work into this blog, everyday I get further behind. Getting caught up is a goal that just keeps retreating into the future. So today I decided to begin a new section where I can write a few notes, thoughts about where we're at right now.
I know my friends think I disappeared off the edge of the earth after they watched us drive beyond the horizon so long ago. Some of them haven't heard from me since that day. So now it's time for me to begin a conversation about this experience in the present tense.
Today Parry started the process of becoming a resident of California. He told me last night that when we left PA he imagined this trip as his last hurrah, fully expecting to just die on the road. I told him that although it's not my choice to make, I wish he would stick around. Today he decided to hang here a while longer. By becoming a Californian he'll be able to get some assistance getting the meds he needs to stay alive. It sucks that that's the way it is, but it is. Only a person making six figures could afford these meds. So it looks like we'll be driving around CA for the time being, which is not really a bad thing.
It's windy tonight here in Desert Hot Springs. I read today that San Gorgonio Pass northwest of Palm Springs is one of the windiest areas in the world. Parry and I drove down to the windmills to watch the sunset. We got a little sandblasted but it was a beautiful sight. With all the sand flying in the air you can look directly into the sun and so can the camera.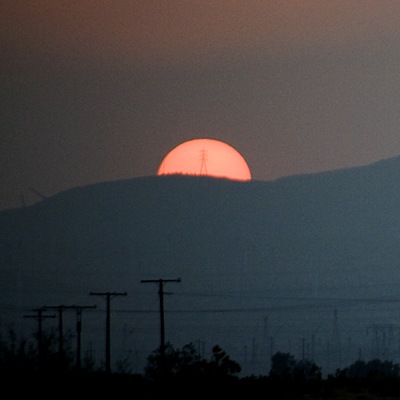 Shooting Into the Sun
The wind here doesn't bother me like it did during those storms off the Pacific we experienced last winter. It has a different personality, less threatening. I'm loving the desert. It's the first place we've been to that I feel tempted to stay.
Parry's making dinner right now. He's crabby again. He gets this way if he doesn't eat on time. Drives me nuts. Till tomorrow….