It's windy today. In fact we're under a Wind Advisory.
Blowing too hard to run around outside……. Inside the whole coach wiggles with every gust.
So I'm working at home again.
I've spent a great deal of time sitting in front of this computer screen since we arrived in the desert.
Feels good to get back to a steadier work schedule, and the income is welcome. On the down side, I haven't been out much and we're leaving the desert in a few days.
Last night we went out to the windmills again, hoping to see the sun filtered through the sand. But a huge bank of clouds was trapped on the other side of the mountains. The clouds were trying unsuccessfuly to climb over those peaks and explode into the desert. Instead they blocked the horizon and allowed the sun to sneak off behind them.
Made for a dull sunset.
I stepped out of the van to collect a few shots anyway and experience the force of the wind blowing through the pass. I could feel the sand stinging my skin and collecting in my eyelids. It was exhilirating.
The camera was getting pounded too and I realized I needed to shield it, so I turned my back to the blast and started back to the van.
Parry was  pointing at something on the ground a few feet away. I couldn't make out what he was seeing, so I walked over for a closer look. It was a dead cat.
I stared at it for a few moments, then composed a shot. I suppose this is the way the desert treats its dead. The unbroken days of sunshine, the dry air, the blowing sand…… carve the dead right into the landscape, brushing them away until they simply blend and vanish.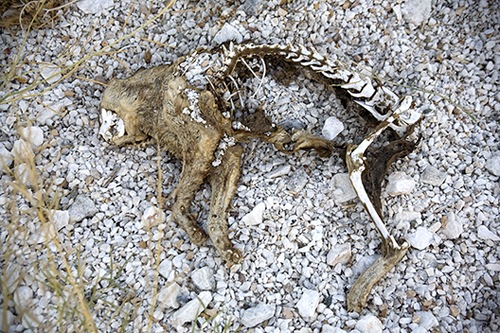 Dead in the Desert
I felt empathy for that cat, dying alone in the desert. I know I'll make that lone journey myself someday. It gives me solace that the wind was there to caress and reassure her.