We finish breakfast before the sun is up and are on the road by 7:00 am. We have a 218 mile drive today, the longest of the three traveling days.
We stop in Eureka, CA for gas and bottom out on the way into the station. There's no major damage to the coach, tow bar or van, but the noise is pretty horrendous and I'm sure we tore up their driveway.
Gas is now up to $3.45 a gallon and we're down to a third of a tank. So $185.00 later we're back on the road again. Little did we know how fast that gasoline would be sucked away before the day was over.
The Mountain Directory says that US Highway 101 between Eureka and Ukiah has many 6-7% climbs and descents and many curves. I must have missed this the first time I read it because I wasn't expecting the drive to be so hairy today.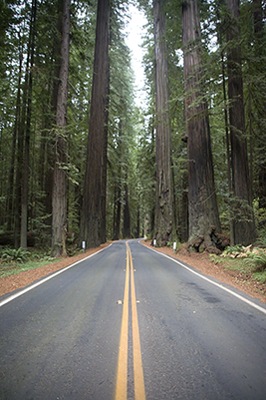 Into the Forest
Our only respite is when we reach Humboldt Redwood State Park and turn off on the Avenue of the Giants.
The Avenue of the Giants is a 31 mile portion of old Highway 101 that meanders through Humboldt Park and beyond and crosses over US 101 several times.
This is another moment I've been dreaming of my whole life, seeing the giant Redwoods.
When we were at the Redwood Trails campground in Trinidad, CA I bought a small polished stone in the gift shop with the word Courage etched into it.
Like the Cowardly Lion in the Wizard of Oz, I suppose I was looking for a symbol of what already lies within, hoping it would somehow bring courage forward in me for these drives.
Well today like the Cowardly Lion, I lose my nerve several times on the road and by the time we get to the Redwoods, I have indigestion and I'm feeling sharp pains in my chest, left shoulder and arm. I'm afraid I may be on the verge of having a heart attack. I say something to Parry about it just in case it really does happen so at least he won't be surprised.
We pull over the first chance we get to step out and see these ancient trees up close. I figure if I'm going to die this would be a good place to do it. I take my camera with me but it's too dark for hand held shots and once I'm out among them, I'm at a loss how to truly capture such massive subjects in my camera's tiny window.
So I just walk among these majestic beings in silence and try to quiet my mind to experience them as directly as I can. I would love stay here for hours but we have to keep moving, we have such a long way to go and the days are so short now. We get back in the coach and continue on.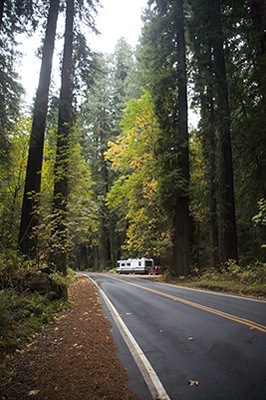 Lunch In the Redwoods
A few miles down the road, We find a place to pull off for lunch in a forested area surrounded by Redwoods. We open all the window blinds, eat lunch and sit here for as long as possible to just gaze. I'm feeling calm now and the pain in my chest has subsided. I'm hoping it's just stress related.
We've seen several RV campgrounds among the trees so we talk about coming back again and staying in the forest next time.
Before we go there's one more thing I want to do, I find the biggest Redwood and put my arms around it attempting to feel it's ancient life force and possibly gather a little healing power from it. I suppose I'm officially a tree hugger now.
Here's a little 3½ minute video of the drive through the Avenue of the Giants:
We get past all the 6-7% climbs and descents after we go through Ukiah, CA and take a break at a deserted weigh station. While the cat's stretch and do their business we relax and make a call to our friends Lisa and Steve in PA. Flat Stanley's and our friend Diane is at Lisa and Steve's house too. We have a nice chat and get to reconnect with some home folk.
After the Talisman cools down a bit, Parry starts her up and off we go again. At this point there are no more steep grades or descents but for several miles US 101 turns into the worse road I've ever been on.
In PA I always heard from out-of-staters that PA roads are the lousiest in the states, but this part of 101 makes PA roads look good. It is so bumpy that even with our new shocks, everything in the coach is bouncing and rattling like crazy, including us. It's nonstop for at least 15 miles.
We arrive in Cloverdale close to dusk and it's raining. We make a last minute decision to go into town and fill up the gas tanks. We're concerned that in the three weeks we're parked prices will jump again, so we're hedging our bets. We drive into downtown, find a station and bottom out again on the way in. The only way out now is to unhook the van and split up. So I drive the van to the campground and Parry follows me in the coach.
By the time we pull into Thousand Trails Russian River it's dark and pouring wet. This resort has no full hookups available, just electric and water, so we need to dump our tanks now. I hold an umbrella over Parry while he empties the holding tanks. Then we walk around in the rain looking for a decent site where we think we can get satellite connection. After making our best guess in the dark, Parry backs the Talisman into the site while I guide him.
We do very little setup, I just want to make dinner and relax for the rest of the evening. We get to stay for 21 days again, our first since Soap Lake, WA. I plan on getting alot of work done.