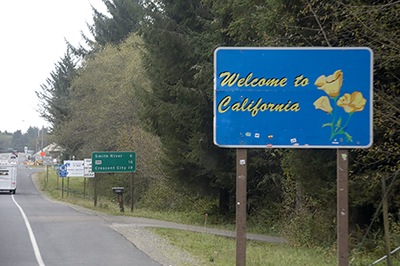 Welcome to California
We're up at 5:00 am and on the road by 6:30 am, a first for us. I don't think we've ever been traveling this early in the morning. It feels good.
Today we leave Oregon and travel 130 miles to Trinidad, CA. This is the first time either of us has ever been to the Golden State and we're looking forward to exploring it.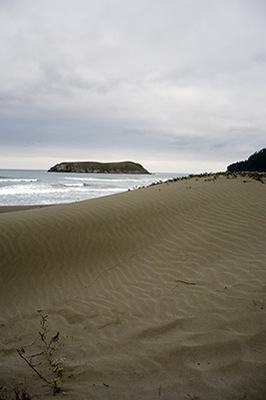 Undulating Sand and Surf
It's our second day of driving and we still have one more to go.
Traveling every day is stressful for all of us. It also means the office is closed for the duration, so I can't get any "work for pay" done. However, it has a positive side too.
There's something extraordinary about being in totally different environments over such a short period of time. Today we wake up by the sea, tonight who knows?
The ride is pretty much like yesterday with just a few climbs. There are also pull-offs again so we get to take a few breaks and enjoy more beautiful vistas.
Here are some of the views from our drive: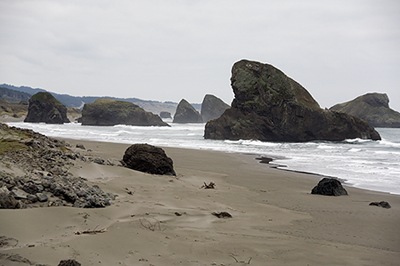 Carved By the Wind and Water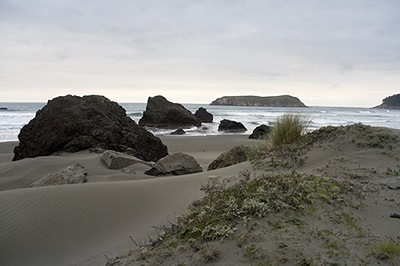 Soft Tones of the Sea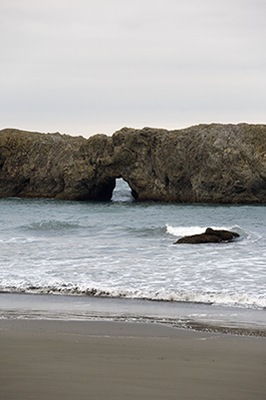 Sea Arch
We arrive at our next destination earlier than expected. It's a Resorts Parks International campground called Redwood Trails. When we upgraded our Thousand Trails membership they threw in a year of RPI, so our total cost to stay for the night is just $8.00.
We've only ever stayed at one other RPI park in New York and that was nothing to write home about, so I'm not expecting very much. When we first drive in, the campground appears to be an old cow pasture, not alot of ambiance, just another place to park for the night. But we discover later that there's another side to this park.
After we check in and get settled, we go for a walk to explore the grounds. We stop at the camp store to buy a freshly made raspberry pie that comes with a free cup of coffee and chat with the lady who's running the store. She tells us that at night the elk often come into the campground to graze. Having never seen elk, I'm curious and hope that tonight is their night out.
We discover that the cow pasture was added as part of the campground later and the original camp is in the wooded area next to the store. So after lunch and a piece of pie, we take a walk over and find out that Redwood Trails does indeed have ambiance.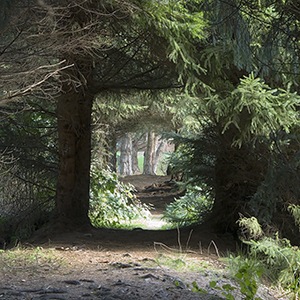 Into the Woods
This older section of the park is a mature wooded area where many of the occupants are permanent residents who've leased their lot for life.
It's very cozy back here and I think this is not a bad place to retire.
The woman at the store told us she attended a funeral that morning for one of the permanent residents who recently passed away.
I can imagine spending my final days enjoying a lush environment like this.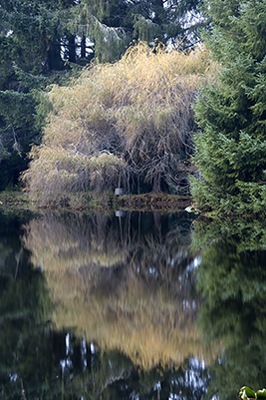 Fishing Pond – A View From the Island
We continue to walk and come across a fishing pond where the water is quiet and still, mirroring everything. Surrounded by a lovely variety of trees, the pond invites you to stay for awhile.
There is a little island on the pond that we get to from a small wooden footbridge. On the island is a bench where we rest for a bit in this peaceful solitude and I wonder if I should take up fishing again.
I use this time to practice meditating. For me, this journey is not only about the freedom to travel and discover new things, but also about freeing the mind. Learning to silence the constant chatter of the mind is the first step towards freedom. I've been struggling with that discipline. Tuning in with these surroundings makes it easier.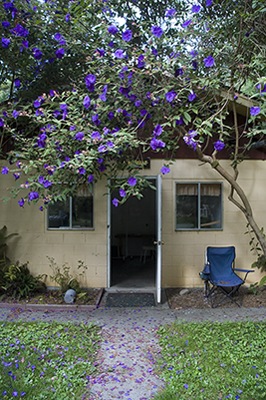 The Laundromat
We find other trails behind the pond that go up the mountainside, so we trek up, around and down them until we're pretty beat. Then we head back to take Benny for a walk.
Behind our campsite is a fenced off pasture enclosed by mountains where earlier horses were grazing. But now it is filled with elk.
We walk through an unlocked gate into the pasture and get as close as we can without disturbing them. Then we just sit and watch.
Benny is unimpressed but I'm amazed. They're magnificent creatures, beautiful.
There are a couple of bulls among them with good-sized antlers, some younger bulls too, but most are female.
We sit very still. At first many of them look in our direction to check us out, but after a while they ignore us and come pretty close.
I'm wishing I had my camera but don't want to disturb the moment to run back and get it. Photography is an important part of my life, but I don't want to experience everything through a camera lens. This is one of those moments where I just want to be.
The sun is going down quickly and it's getting dark. Benny's being impatient, so we walk back to the coach and settle in.
No cable TV tonight and we have a much longer drive tomorrow, so we eat dinner and go to bed early. Tomorrow we arrive in Cloverdale, CA where we'll stay for three weeks aside the Russian River.