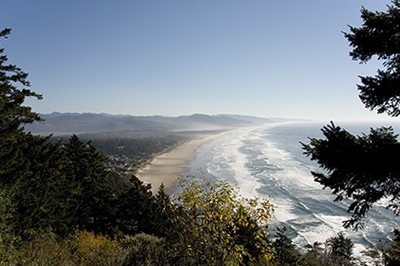 Pacific Coast Scenic Byway Route 101 Vista
We drove down Pacific Highway 101 from Seaside, OR to Neskowin, OR on October 23rd. Parry did well, I was a little nervous as usual. This time it was the narrow, curvy road with no shoulder that had me holding tight, but the views of the ocean and the rocky shores were fantastic. There weren't many pull-offs we felt comfortable parking our big rig in, so we only stopped once to take a couple of shots.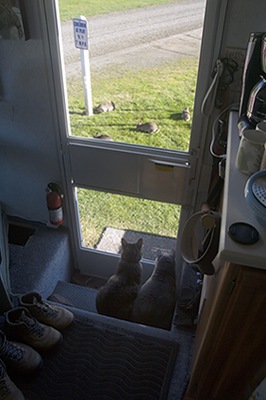 Benny and Buddy Bunny Watching
We're staying at the Neskowin Creek RV Resort, a Resorts of Distinction campground that sits right on Highway 101. I can think of one word which aptly describes this picturesque retreat – bunnies.
Everywhere there are bunnies. They hang on, around and under your RV and you have to watch your steps because – they poop on them.
They are great entertainment for the cats and for us as well.
Relatively tame, they come right up to us and take food out of our hands. Even when Benny goes for his walks they just ignore him.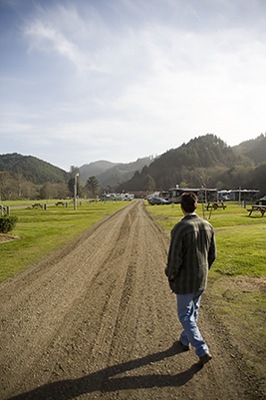 Walking the Park With Parry
They do have one natural enemy, however.
The park is in a valley surrounded by wooded mountains and in those woods is a bobcat that darts out and scoops a bunny up every now and then for dinner.
There are pictures of the bobcat in the clubhouse but we've not seen him in person.
We think we've heard some bunny screams at night and occasionally we do see one that looks a little chewed up.
The weather in Neskowin for this time of year has been rather sunny. It only rained once and that was our first day here, a welcome respite from the past several weeks. We did have a few exceptionally windy days and it got cold enough that we had to occassionally turn on the coach furnace to take the chill off.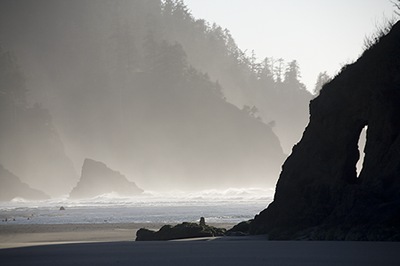 Neskowin Beach
Two days after we arrived, we took a walk down to the Neskowin beach and it was so cold and windy that we were wearing our winter coats, gloves and ear covers and even these weren't enough to keep us warm.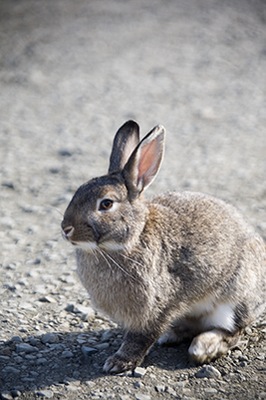 Bunny Looking for a Handout
Our stay at Neskowin has been a working one for the most part. We're so far behind on our blogs and other projects that we really needed to stay indoors and get some things completed.
I also received an order for four 40×40 images on canvas that I had to get ready for the printer in Ohio.
Even so, we did get out to play with the bunnies, meet some new people, do a little gambling at the Chinook Winds Casino in Lincoln City and spend an evening searching for sea lions.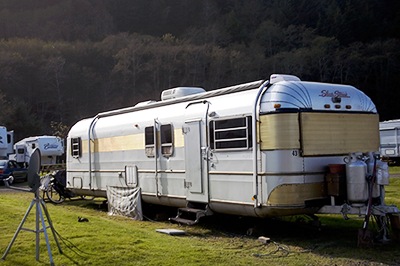 Mac & Martha's Silver Streak
A couple of times we joined our fellow RV'ers for potluck 'Dinners and a Movie' in the clubhouse.
These turned out to be quite a treat. Not only was the food good, but we also met several more road huggers including Mac & Martha, a couple in their seventies who started full time RV'ing 25 years ago.
Their Silver Streak trailer was custom made for them in 1982 and they watched it being built from the ground up. They're still traveling in it today. I asked them if they thought back then that they would still be living life on the road now, and Martha answered "Yes, of course.".
Parry talked to Mac about our recent problems with the van and Mac suggested Car Care Specialists in Lincoln City. We figured if Mac could trust them, so could we. Parry made an appointment and took the van in on Monday the 5th. They fixed a transmission fluid leak, replaced the Drive Belt Tensioner which was causing a constant squeaking sound, changed the oil and put on new windshield wipers for a grand total of $354.68. Not everything Dodge of Bellevue in WA suggested we repair, but we're hoping that it's enough to keep us on the road for now.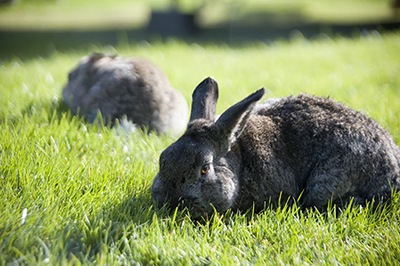 Grass Munching Bunnies
We also met a couple from Canada, Debbie and Henry who sold their farm to travel full time.
Debbie has a degenerative eye disease which eventually will rob her of her sight. She wants to visit all of the places she's dreamed of seeing before that happens.
Pam and Steve, a couple who part time, recently purchased a 2008 Winnebago Itasca Suncruiser and were gracious enough to give us a tour. Wow!!!
Before the Suncruiser they owned an older RV like ours. Steve suggested that we look into the Banks PowerPack® System as a possible upgrade for the Traveling Talisman. He said it would give us better gas mileage and make steep climbs a breeze.
We have a lot of mountains to scale before our trip is done, so I'll have to do some research and see if it would be worth the investment.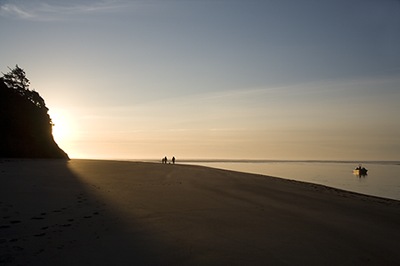 Sunset at the Mouth of the River
Linda and Gene, part timers from the Portland area told us about a beach that was off the beaten path where they saw sea lions sunning themselves. Linda told us that the entire shoreline of Oregon is publicly owned and public access must be provided to every beach. What a wonderful concept! She gave us directions and two days ago we headed over in search of sunning sea lions.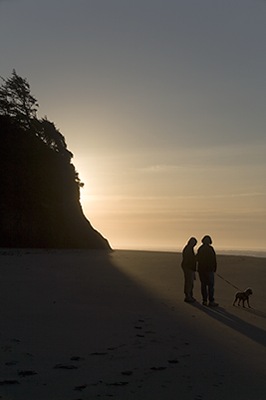 Sunset at the Mouth of the River II
The seal lions were supposed to be at the mouth of the Nestucca Bay. We walked the beach and as we reached the mouth we saw a couple of fishing boats and a few people walking with their dog, but no sea lions.
We waited. This place was so serene, we just planted ourselves and did some leisurely photographing, just enjoying the moment and appreciating our freedom to be there.
Then just as the sun was heading down, we did see a few sea lions swimming into the mouth of the bay, but only their heads when they came to the surface for air.
Even though it's been sunny here, we're both tired of being cold and don't want to spend money on LP to keep the coach warm. The whole idea was to stay ahead of the cold weather. We decided to leave Neskowin three days early and extend our stay at our next stop, Thousand Trails Russian River Preserve in Cloverdale, CA. There the temperatures are at least ten degrees warmer.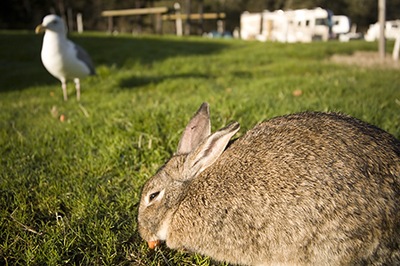 Seagull Waiting for His Turn
Now I'm waiting for Parry to finish getting the coach ready for travel. I've finished all of my prep work, so I decide to feed the bunnies and a lone seagull. Pam comes over with carrots and helps me attract more bunnies.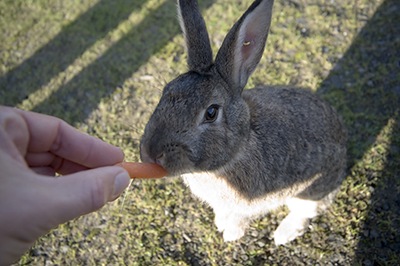 Feeding the Bunny
Today we say goodbye to the bunnies of Neskowin. Tonight we'll be in Port Orford, OR at the Evergreen RV Park, but for now we have a long drive ahead.