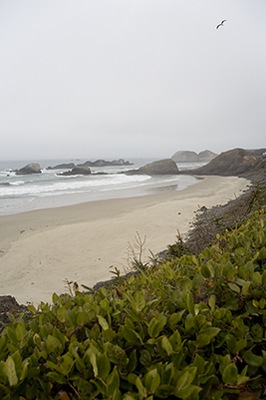 Oregon Coast – A Stop Along the Way
We head south on US 101 and stop at the WalMart in Newport, OR to take a break and have lunch. While we're here we pick up a few accessories for the Talisman, a couple of rugs, new towels and a new doormat.
I also buy some Rain-X Glass Treatment and Rain-X® WeatherbeaterTM Wiper Blades, hoping they will keep the smashed bugs off the windshield. I want to be able to film through it without big ugly bug spots in the frame. We'll see if it works.
We're traveling 185 miles today and I'm not as stressed out about the ride as I usually am. The road is better than it was in Northern Oregon, there are shoulders now and it's not quite so curvy.
Another nice thing about this stretch of highway is there are pull-offs where we can easily park, so we get to stop more often.
One thing 101 lacks is gas stations. The few it does have are overpriced and often not very RV friendly. It's either impossible to get the rig into the station or difficult to avoid bottoming-out while trying to maneuver through.
It seems strange because we see RV parks practically every couple of miles. Where do they all get gas?
There's a sign for a Vista point up ahead, so Parry pulls off for a break.
Click to Hear the Sea Lions' Serenade
This is our second stop and we see something totally unexpected and wonderful here.
At first glance it's another gorgeous seascape of rugged coast and surf. But then we hear a sound coming from below. We walk to the edge of the cliff and look down to see an awesome sight. There are over 200 sea lions laying on a huge rock that looks a little like a sea lion itself.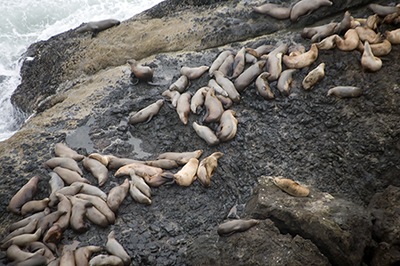 Sea Lions Sunning
I've only ever seen sea lions at the zoo and then only a few of them at a time. Even though it's a bit cold and dreary, watching and listening to these creatures is so mesmerizing that we linger here for at least a half an hour before taking off again.
We finally arrive in Port Orford just as the sun is going down. Luckily there's no set up tonight since we're leaving at first light tomorrow. We're staying here for half price at a Passport America campground named Evergreen RV Park.
Don't quote me on this, but it seems the difference between an RV Park and an RV Resort is that an RV Park is just that – a place to park your RV. Some of the RV Parks we've seen are nothing more than macadam parking lots with hookups. You're barely a foot away from your neighbor and lucky if there's even enough room to put your slide out, let alone your awning.
This park is small and it's a bit of a tight squeeze getting in but it's terraced with trees in between each site. It's a fairly nice place to spend the night.
Parry learns from the owner, Bud, that Port Orford is the farthest point west of the 48 contiguous states, so I guess this is as far west as we go.
Neither Parry nor I feel like cooking, so we find a restaurant in the Port Orford Guide we picked up in the campground office. There's a place called Crazy Norwegian's Fish and Chips that looks like it's within walking distance. We don't want to unhook the van from the tow bar if we don't have to.
The wind has really picked up since our arrival, so we put on our winter coats to head over to the restaurant. I feel like I'm in an old movie. You know the one where the strangers walk through the whistling winds of a cold night by the sea and arrive at a small pub where its warm and cozy and the people are friendly, the food satisfying and the brew dark and flavorful.
After dinner we attempt a walk to the bay but the street is pitch-black and the wind so strong it pushes us back.
We return home, watch a little cable TV, then hit the sack early. Tomorrow is another long drive. We never do get to see much of Port Orford but it still leaves a lasting impression.