Thousand Trails Russian River Resort in Cloverdale, CA turns out to be my favorite campground so far. It's in a valley perched on the side of a mountain above the Russian River. The campsites are on different levels, so no matter which way we look there groups of sites nestled in the trees above and below us.
It's an old campground so many of the sites are too small for today's bigger rigs. I'm glad we're here off-season when there are plenty of available sites to choose from.
Benny and Buddy are lovin this location too. It's a great place to take Benny for walks, lots of hills and valleys, all different kinds of trees to climb and birds to chase.
Buddy loves to sit at the front window and watch the woodpeckers nesting in the tree next to the coach. There are also quails scurrying about, blue jays, humming birds and more I don't recognize. I like to sit with her, sipping my morning java, and watch the birds too.
It's good that I love this preserve because I'm staying inside the campground for most of our three weeks here to get caught up on my work. I'll be glad when I'm up to date so I can actually get out to enjoy this beautiful country.
Mechanical and Other Technical Issues
Parry also had some things to accomplish during this stay. He put himself in charge of getting the van repaired. On Sunday the 11th, we had another scary drive where this time the van got stuck in cruise control and wouldn't stop accelerating even though Parry was braking.
To make a long story short (see Parry's blog for more details), he ended up using both a dealer, McConnell Chrysler, and a local repair shop. Cloverdale Automotive, to get the job done.
McConnell Chrysler didn't finish the job the first time around and Parry had to go back. They were the only ones who could recalibrate the van's computer brain, which was the cause of most of our problems.
Cloverdale Automotive did a better job of diagnosing our other problems and even fixed our air conditioner, which had been broken since our stay in Chicago.
Between the two of them we spent another $800.00 on van repairs. McConnell Chrysler did give us a loaner car with gas at no charge and did follow through and complete the repairs they started, but they also tried to get us to spend alot more money on some repairs that Cloverdale Automotive said were unnecessary.
Cloverdale Automotive went out of their way for us. They even installed a new headlight bulb at no charge. That may sound like a little thing, but the way the headlights are configured on the van, that's an hour job.
Give Me That Old Time Entertainment
Until Friday the 16th we were unable to use the laptop. Benny chewed the cord so bad that it no longer conducted electricity. I did some research and found a replacement cord at BestBatt.com but in the mean time, since we haven't been able to figure out why DVD's aren't playing correctly on the TV and we can't use the laptop to watch DVD's or do Netflix Instant Movie Watching, we're stuck listening to SIRIUS Radio Classics.
We listened to episodes of "The Bob Hope Show", "The Fred Allen Show", "The Lone Ranger", "Duffy's Tavern", "Suspense", "Dimension X", and "The Twilight Zone". Although the story lines and the humor seem childish compared to today's, I enjoyed depending on my imagination for the visuals. It would be great to have some modern, more sophisticated radio shows to listen to instead of watching TV and movies all the time.
Happy Thanksgiving
We spent Thanksgiving here in Cloverdale and celebrated by attending a potluck dinner. The campground contributed the turkey, stuffing and gravy and everyone else brought a dish. I made my famous cranberry relish. The potlucks are a great way to meet fellow RV'ers and trade stories from the road. I ended up coming back to the coach and taking the traditional Thanksgiving Day nap.
Mendocino, CA
As our stay here was coming to an end, we did sneak out for a little exploring.
On Wednesday, the 28th we drove to Mendocino, CA. We wanted to get over to CA State Route 1, aka The Pacific Highway. We've been traveling on US Highway 101 which has been beautiful, but we've heard that Route 1 is the best for scenic drives. We decided rather than head directly to Mendocino we would go due west over the mountains and pick up Route 1 further south, then drive up the coast to Mendocino and later to Fort Bragg.
It was a good plan but we forgot one thing – it takes much longer to drive over the mountain on a curvy, hilly road than to take the main highway. Nevertheless it was a gorgeous ride and we got to experience driving on grades as steep as 12 and 16 percent. We ended up arriving in Mendocino around 2:15 in the afternoon. It was worth the drive but there was no way we'd make it any further.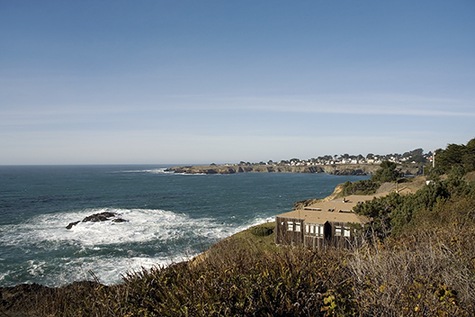 Mendocino Coastline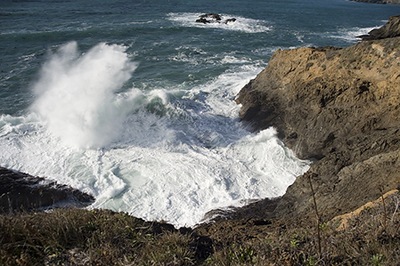 Sea Spray Off the Mendocino Coastline
Mendocino sits on the ridge of a craggy coastline overlooking the Pacific Ocean. Here the waves pound the shoreline creating spectacular foaming sea sprays that glisten in the sunlight. We end up spending alot of time just sitting on the rocks watching the waves.
Since we arrived later than planned and hadn't packed any snacks, we were both hungry and in need of a restroom. So we had lunch at the Mendocino Cafe.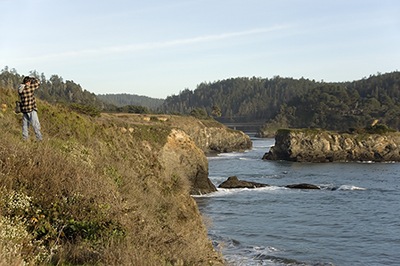 Parry Photographing the Headlands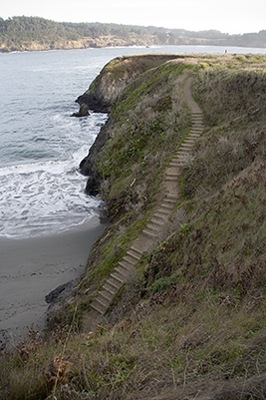 Stairway to the Beach
Afterward we wandered into the Mendocino Headlands State Park which surrounds the Village of Mendocino on three sides. The park offers expansive views of the coastline and intimate little coves and beaches to explore.
We spent the rest of the day here climbing over the rocks, getting as close as possible to the waves to photograph and enjoy them.
We didn't bother to read this warning: "Use caution when on the rocks at the ocean edge. The ocean is bitterly cold and has awesome power. Every so often even on the calmest days, a roller of extraordinary size will crash ashore and engulf anyone at waters edge.".
Here are some shots from the edge: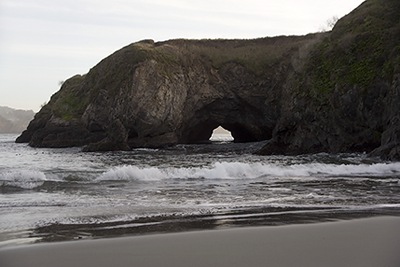 Mendocino Coast I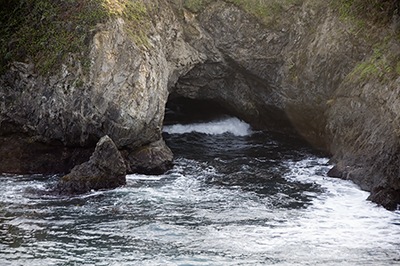 Mendocino Coast II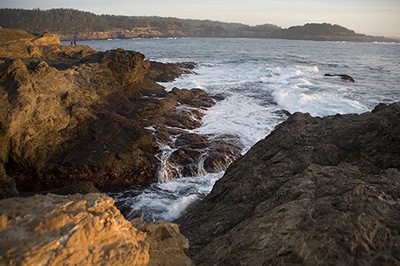 Mendocino Coast III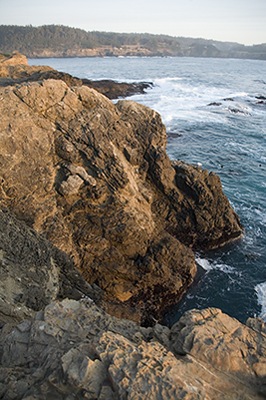 Mendocino Coast IV
Click to Bring in the Wave.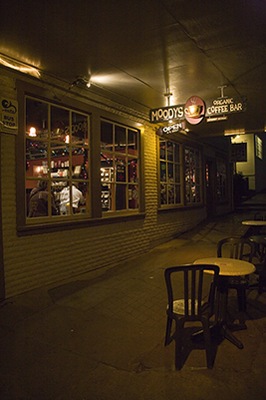 Moody's Organic Coffee Bar
We stayed in the park until the sun caressed the sea, then made our way back to the village. We didn't savor getting stuck out on the rocks in the dark. Plus both of us needed a bathroom and we figured a nice strong cup of coffee would help us stay alert for the drive back to Cloverdale.
We thought it might be prudent to put some gas in our tank at the only gas station in town before it closed for the night. It turns out to be a wise decision because as we were leaving town we saw it was closed. Gas was $4.029 a gallon, the highest we've seen so far.
We stopped at Moody's Organic Coffee Bar across the street from the Mendocino Cafe for a brownie and our first ever cup of organic coffee. We sat at one of the little tables on the sidewalk outside and a gentleman walked by all bundled up. He declared that we must be a couple of hardy souls to be sitting outside. Parry and I looked at each other and realized that if we lived here all the time it probably would seem cold, but being from the northeast it was warm for us.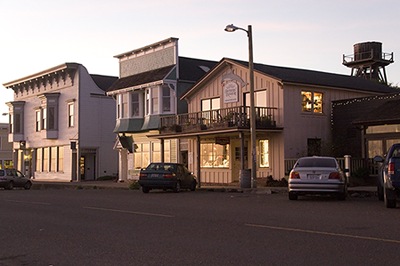 Mendocino Street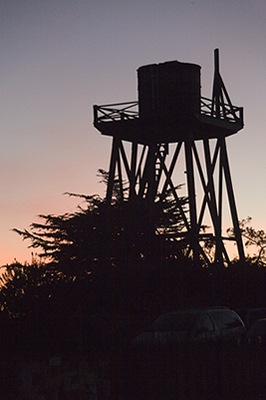 Mendocino Sunset I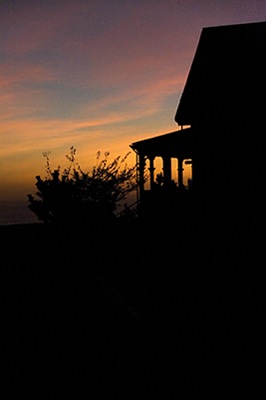 Mendocino Sunset – Ford House
Geurneville, CA
Click Parry to Help Him Eat His Ice Cream

Thursday the 29th we traveled to Geurneville, CA. Our new friends Pat & Jan, who are workamping at Thousand Trails, suggested it as a good place to visit.
We probably arrived at the wrong time of day or the wrong time of year, because other than a few touristy shops, there wasn't much going on in downtown Geurneville that day. We stopped for some ice cream, then drove to the Armstrong Redwoods State Reserve where we stayed till dusk.
The redwoods were wonderful of course, but the real treat for us that day was the drive to the top of the mountain where we parked and then climbed another 300 feet to the top of the world. The air was so thin, it took me a long time to catch my breath. The view was worth the climb. We stayed up there as long as we could and hated to leave, but the sun was setting and we still had to drive back down the mountain before dark.
River Rock Casino, Geyserville, CA
Tonight we go to River Rock Casino in Geyserville, CA with Pat & Jan for a complimentary dinner. Parry and I have only been to casinos a few times, twice since we've been on the road – once in Windsor, Ontario, the last in Lincoln City, OR.
We're learning that everywhere we go we can sign up for each casino's version of a "Players Club" and get some type of goodie in return. Here At River Rock we get a Buy One Get One Free all you can eat buffet, which tonight is surf and turf. Plus they give us each $10.00 in gambling money.
The food is tasty for a buffet and the desserts even better. We give one of our complementary meal tickets to the girls, then head over to the slots to play our $10.00.
I decide to play the dollar machine because the prizes are larger and I only have to win once to win big. I proceed to lose all of my money in 5 minutes.
Parry wants to play the penny machine so he can play longer. The girls rub his gambling money on their bodies for good luck and he ends up winning $26.83 which pays for our "Buy One" dinner plus a little extra.
Pat & Jan are alot of fun and we hope we'll run into them again as we travel about. They've been workamping for a few years now and really enjoy it most of the time. They tell us that there's alot of competition to get jobs and winter is the worse time because most of the campgrounds are closed or only providing limited services. They're already looking for their next gig.
And We're Off……..
Tomorrow we leave for the California Delta where we'll be staying for three weeks at a Resorts of Distinction campground called Delta Shores Marina & RV Park in Isleton, CA. While we're there I'll get to realize another lifelong dream, I'll finally get to see San Francisco, CA.