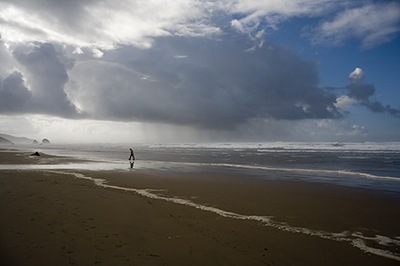 Under a Rain Cloud
It rained last night but the promised winds never appear, so we end up getting a peaceful night's sleep. We could have stayed in our other campsite, but now that we've moved to a new one, we decide to stay put for the duration.
I check out the weather on HAMweather and find that a High Surf Warning is in effect for today. It's supposed to peak around noon, so Parry and I decide to go to the ocean to see the stormy waves.
A friend of mine, Anne Quist, told me about a restaurant named Mo's she used to go to when she and her family visited Oregon years ago. She had fond memories of it and wondered if it was still around. She said it looked like a shack but the food was incredible.
I had seen a sign for Mo's on our way to Cannon Beach the other day and thought it would be a great idea to go to there for lunch today and then later down to the beach to watch the high surf.
As it turns out Mo's is right on the shoreline. No longer a shack, Mo's now has three locations and Anne is right, the food is delicious.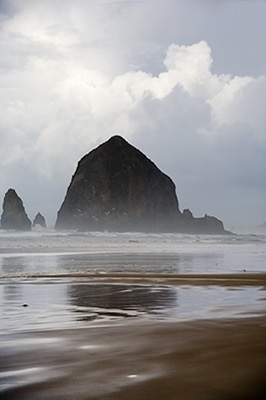 After the Storm – Haystack Rock
The dining area is enclosed by giant picture windows with a panoramic view of the Pacific Ocean. We grab a window seat and sit marveling about how blessed we are to be experiencing such a scene.
Haystack Rock is just north of the restaurant and as promised, the waves are fairly wild today.
Clouds hanging over the landscape add to the dramatic scene outside and sunlight darting in and out of the clouds spotlight the waves, water, rocks and sand giving each a chance to shimmer.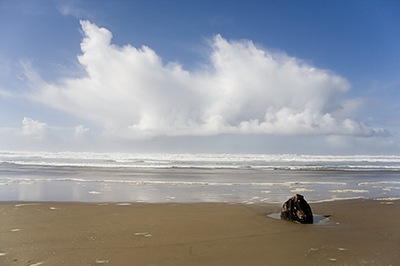 Cannon Beach – High Surf
Parry orders the Cannonball Bowl, a bowl made of sour dough bread, filled with Mo's clam chowder and an Oregon Cajun Oyster burger with a small shrimp dinner salad. I have a regular bowl of chowder and the Grilled Blackened Cod Fish sandwich with fries. A couple of dark beers and we're set for a long leisurely lunch. We decide to be in no hurry, just savor our meals and the view for as long as we can.
After lunch we walk out on the sand and head in the opposite direction of the Haystack Rock to see what lies on the other end of Cannon beach.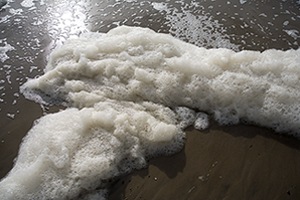 Sea Foam
The storm has washed all kinds of sea plants and driftwood up on the beach and the waves are creating a salty foam that slides up and down with the wind and water. It moves and vibrates, pulsing as if alive. The sea foam and clouds add new textures to this beach scene, making it fun to photograph.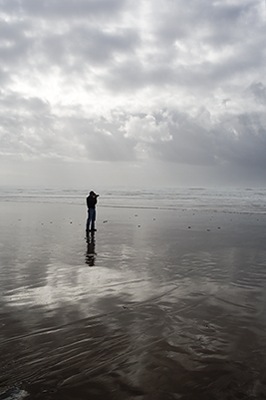 Parry Goes Off on His Own
Parry heads off by himself once more to practice the Zen of photography.
I continue to walk up the beach toward some more rock formations in the distance, not really paying attention to how far away from the van we're getting.
The waves come pretty far inland sometimes without warning and I find myself having to run to avoid getting my feet soaked. But I'm enjoying it and time passes quickly.
We see a huge rain cloud approaching from the southwest but continue to shoot anyway until we realize we've waited too long. Cold rain starts to trickle down on us.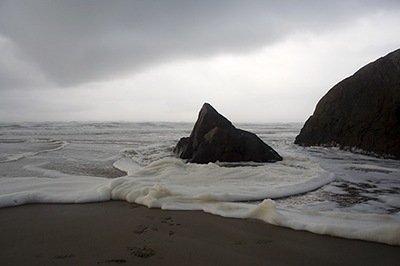 Chasing Waves
I hear Parry yell that he's heading back and see him go running off, but I play tag with one more wave for a few final shots.
As the rain goes from a trickle to pouring, I begin making my way back to the van, holding my camera under my coat to protect it. I figure there's no use running, I'm going to get soaked anyway.
Then I feel ice pelting my head and realize it's hailing. I'm soaking wet and getting hit with little frozen balls of rain and I start to laugh out loud at my own madness for being here.
Here are some of my favorite shots from this day.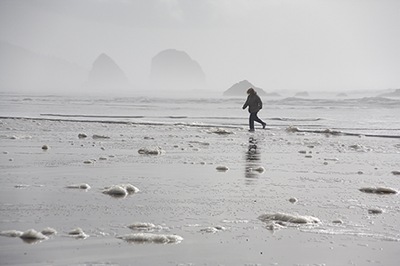 After the Storm – Cannon Beach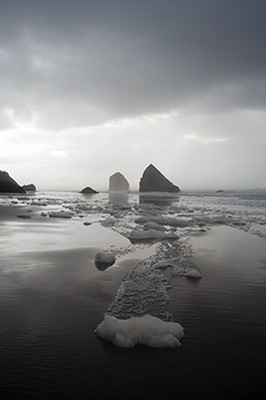 Cloud, Rocks & Foam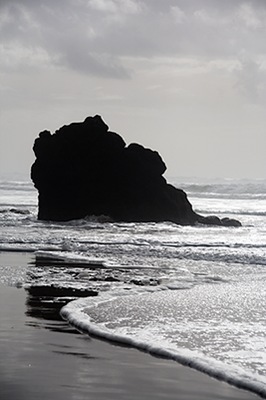 Old Man of the Sea
Chasing Waves II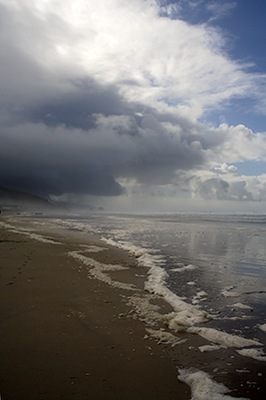 Edge of the Earth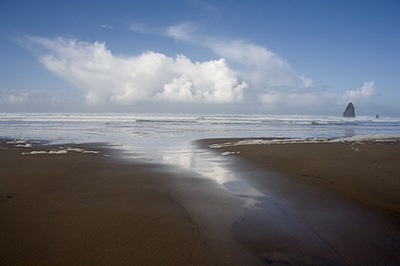 Sand, Sea, Rock & Sky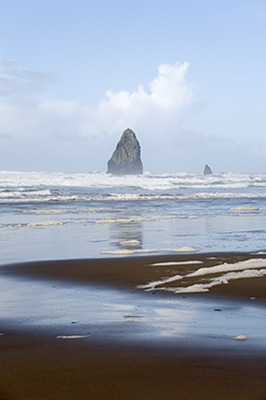 Sand, Sea, Rock & Sky II