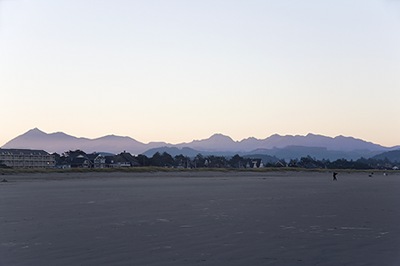 Seaside Sunrise
We wake up before sunrise and drive down to the shoreline to watch the birth of a new day. Seaside is also waking up and there are quite a few people on the beach enjoying the morning in their own way. They are walking, fishing, meditating, running and playing. The weather is cool and brisk.
This is our first Pacific sunrise and we're not sure what to expect. It turns out to be worth getting up early for. My favorite light this morning is when the sun first shines on the mountains turning them from gray to lavender and on the caps of the ocean waves, turning them from dull to sparkling.
A gentleman by the name of Martin Westerman is walking up the beach and stops to talk with us for a while. He's a lecturer at the University of Washington Business School in Seattle and he and his wife are in Seaside celebrating their 17th anniversary.
An attractive person, Martin is an outdoorsman, who gives us the impression that he has done a lot of trekking in his life. He tells us we should check out Ecola State Park while we're in the area.
It's such a beautiful day and it's supposed to rain later in the week, so we decide to take his advice and go to Ecola this afternoon. Martin's wife catches up with him, lingers with us for a few moments and then whisks him away.
Parry isn't dressed warm enough for the cool breezes, so we call it a morning and head back to camp. I need to take a shower and get ready for my 11:45 am haircut.
Parry's Getting Cold – Click Him
We arrive back in downtown Seaside at 11:44 am and rush over to the Riverside Salon for my appointment. This is my first professional haircut since we left Harrisburg, PA. Parry does a decent job of cutting my hair on the road, but I do miss Ted at Shear Vanity.
The girls at Riverside Salon are fun and unpretentious. We talk about life in Seaside, the price of real estate and Tsunamis. We ask them where the best place to get clam chowder is and they suggest Dooger's Seafood & Grill.
Happy with my new doo, we say our goodbyes and head over to Dooger's for lunch. The girls are right, not much for atmosphere but the food is delicious, the service is excellent and the price is right.
After lunch we head back to our favorite ice cream parlor on Broadway. The little oriental lady is there again but this time an elderly gentleman friend is with her making the waffles.
We eat our desserts, walk around town a bit, then get in the van and head over to Ecola State Park by Cannon Beach.
We never make it there.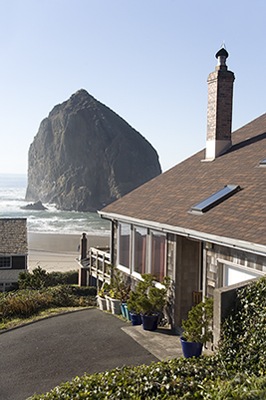 Cannon Beach Roadside View
I get a glimpse of Cannon Beach from the road as we approach the entrance to Ecola State Park and observe what I later learn is called the Haystack Rock. I'm in love.
We see the sign for the turn to Ecola, but bypass it and head right into Cannon Beach.
According to Wikipedia, the Haystack Rock is a 235-foot tall sea stack, the third-tallest in the world. It was formed by lava flows somewhere between 10 and 17 million years ago. Once joined to the coastline, years of erosion have separated it.
I find out after that it's the most photographed rock on the Oregon Coast and I can see why.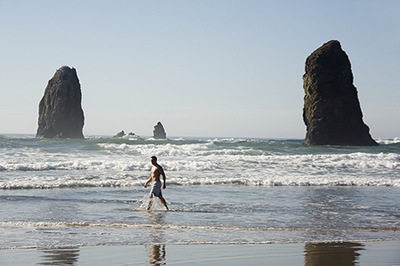 The Needles
Just as intriguing are the Needles, three smaller rock formations adjacent to the Haystack Rock.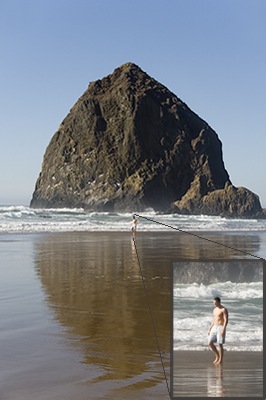 Haystack Rock in Scale
We park in the first spot we find and walk down to the beach. It's getting warm and there is a soft haze hanging between us and the Haystack.
I can't take my eyes off it and want to see it from as many points of view as possible. I know this is a special place and I'm grateful we ended up here today.
We only leave the beach once to move the van to a better parking spot, use the rest rooms and grab something to drink. In fact we stay and continue to shoot until the sun goes down and the last light begins to fade.
Here are some of my favorite shots from this day.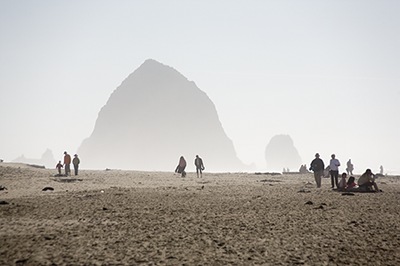 Cannon Beach First Impression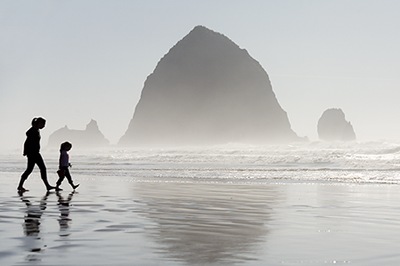 Cannon Beach Mother and Daughter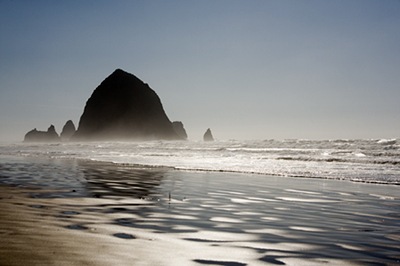 Haystack Silhouette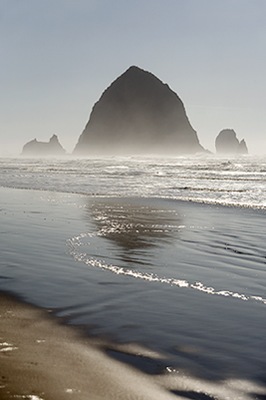 Haystack Silhouette Vertical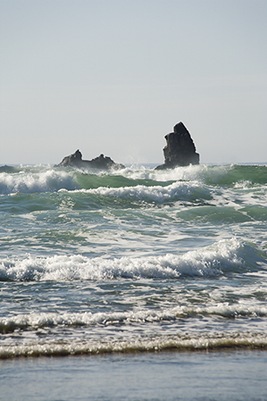 Cannon Beach Waves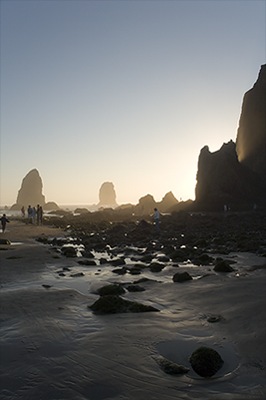 Cannon Beach Low Tide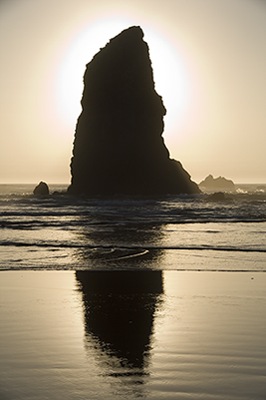 Needle Silhouette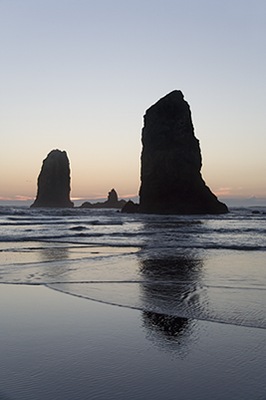 Needles Silhouette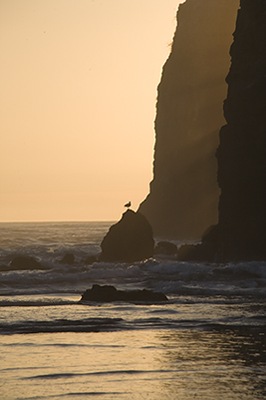 Cannon Beach Sun Rays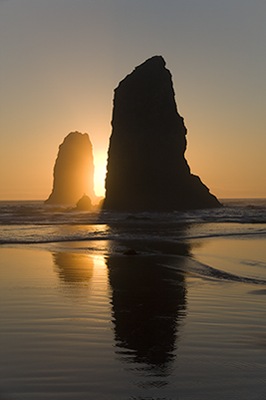 Cannon Beach Sunset
Cannon Beach Sunset II
Cannon Beach Sunset III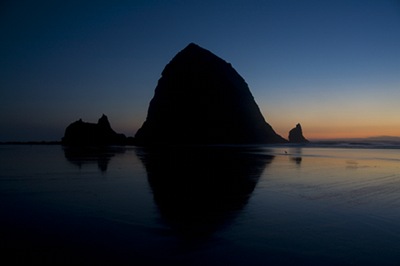 Cannon Beach Last Light