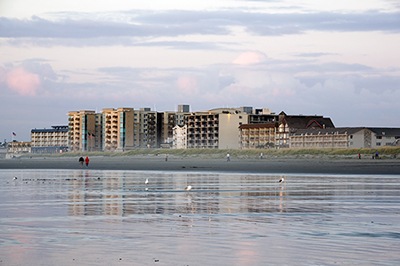 Seaside Oregon
We arrived in Seaside, Oregon on Wednesday, October 10th and set up camp at Thousand Trails where we'll stay for the next two weeks.
The drive from Camping World in Tacoma, WA to Seaside was a smoother ride than we've ever had. Although we didn't experience any significant wind to test out our new Davis TruTrac bar, there were a lot of trucks passing us on two lane highways at speeds of 55 and 75 mph. They caused hardly a noticeable nudge compared to the blasts of the past. Parry says he used to steer into the direction of a passing truck to fight the blowback, not anymore.
The new Bilstein Gas Pressure Shocks we had installed at Camping World also helped by smoothing out the bounce. Between the front trac bar, new shocks and the new tires we purchased from Leslie Tire in MI, I feel like I went from riding in a tank to riding in a luxury bus.
We did run into some heavy rain along the way so we stopped at a rest stop for about an hour, had lunch and relaxed. Another thing I love about traveling by motorcoach, no matter where you are you can almost always pull over and enjoy all the comforts of home.
Friday I had to do my monthly billing in the morning so we didn't get outside to explore until late in the afternoon. We went to the Seaside post office to buy stamps and pick up our mail. While we were there I decided I wanted to see the Pacific Ocean for the first time.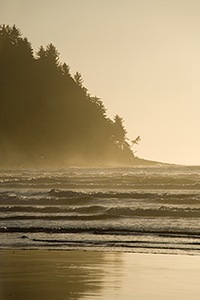 Tillamook Head
I'd been anticipating this moment for many years and the Pacific doesn't disappoint. We stood where Lewis & Clark stood at the end of their trail decades ago and just drank it all in.
In a way this is also the end of my trail. When I was twenty, my family went on our last great vacation together. We piled into the car and Dad drove west. We got as far as New Mexico then had to turn around and go back home. I was always a bit disappointed that we didn't make it to the Pacific. Thirty-one years later, I've finally made it.
We walked along the beach for a while, savoring our new surroundings. I knew if I didn't get into the water I would regret it later so Parry and I took off our shoes and socks and waded in. The water was frigid and we didn't stay in very long, but now I can say that I've been in both the Atlantic and the Pacific oceans.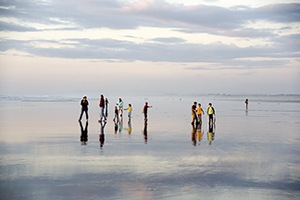 Seaside Beach
Today after finishing up some work for clients, we decide to go back to Seaside and watch the sunset over the ocean. Seaside is banked by Tillamook Head on it's south side and has a wide expansive flat sandy beach that looks like glass when it's wet.
Most of the hotels and shops appear a bit retro, like an old soul who hasn't been able to afford new clothes for a while, but it is well cared for and the beach is spotless.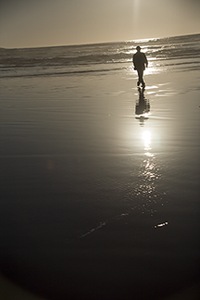 Parry the Photographer
This time we bring our cameras. Parry wanders off by himself to photograph and I set up the tripod so I can shoot for a larger depth of field.
After five months, I'm still trying to find my groove. I photograph what catches my eye but I haven't found what captures my spirit.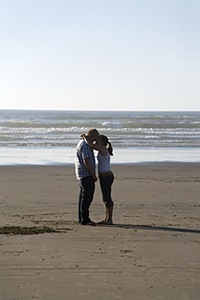 Lovers
The sun is shining and the temperature is cool; there are quite a few people on the beach. I'm surprised to see some of them swimming and surfing. Most of the time I like to photograph where there are no people, but truthfully the photographs I love best are the ones with people in them.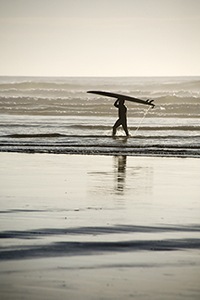 Seaside Surfer
Slowly the sun reaches for the horizon and the light begins to change moment by moment. This is magic time.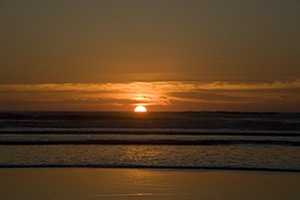 First Sunset over the Pacific
Our first sunset experience on the Pacific is not a vibrant, dramatic one, but quiet and serene. Hopefully we'll get to see many more.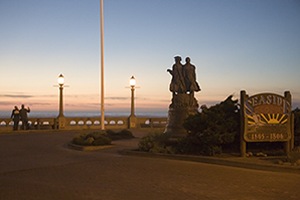 Lewis & Clark – End of the Trail
As the light fades away, Parry and I make our way back to the Promenade where a statue of Lewis & Clark commemorates the end of their trail and from there we watch the sky grow dark.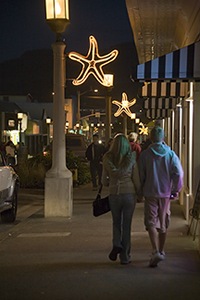 Walking on Broadway
We walk down Broadway and stop at a little ice cream shop where a small oriental lady serves her creamy delicacies in freshly made waffle cones. She doesn't speak much english and Parry gets annoyed with her when she keeps asking him if she can help him.
On our way back to the van we meet Mike. He poses for me and then insists on playing a song for us which he tells us is free of charge. He begins singing his song and somewhere in the middle of his tune suddenly decides we'd rather hear something else. So he starts in on another song.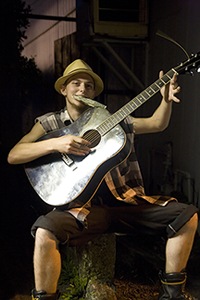 Soon to be Famous – Mike
Parry and I listen politely and Mike smiles precociously at us while he sings, as if we're sharing some little secret.
At the end of the song, Parry and I give him a little applause, thank him and start heading down the street again. Mike yells out "I'm going to be big someday! Remember my name 'Mike'! Someday that picture will be worth something!".