We spend our last night at Tall Chief in Fall City, WA dry camping so we can get an early start this morning.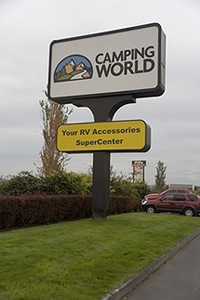 Best Place for RV Accessories
We rise before the sun, have coffee and cereal, hook up the van, batten down the hatches and head off into the early morning fog to Camping World in Tacoma, WA. The drive is only 44 miles but fog, wet roads, rain and traffic make for a jolty ride.
We arrive at Camping World 10 minutes late and they've moved someone into our slot. So we park in the lot and wait.
We're here to get an oil change and have a SHURflo Comfort Air Fan with a MaxxAir Roof Vent Cover installed in the bathroom. The old fan is only one speed and noisy and the old fan cover is flimsy, lets rain in and we fear it will blow off the roof any day. We also want our leaky kitchen faucet repaired but after seeing the price of labor, decide it would be more cost effective to install a new one.
While we're waiting, we shop for other tools we hope will make our lives smoother and perhaps give us some peace of mind. One of these is a Portable 30 amp Surge Guard.
I read that many of older campgrounds are not set up to handle the electical needs of todays modern RV's, so I did some research into the damage high and low voltage can do. While we where in Illimois, I picked up a AC Voltage Meter at Camping World in Bolingbrook and we've been monitoring the voltage ever since. We've seen voltage that was too low as well as too high at the campgrounds we've stayed at. Surge Guard promises "Automatic over and under voltage protection". We'll see if it delivers.
We also buy a water pressure gauge to monitor the water coming into the coach. We already have a water pressure regulator but want to be sure that it's working properly since high water pressure can damage rv plumbing. Like voltage, every campground we go to has different water pressure. We were considering the possibility that high pressure may have been the cause of our kitchen faucet leak.

Furnace Vent Screens
Another item we want is a screen for our outside furnace vents. We once found a bird trying to make a nest in them and have been looking for a solution.
I am also interested in finding a particular book. When we visited Ohme Gardens in Wenatchee, WA we met a couple who were driving a Class C motorhome. I was anxious about the drive over WA Route 2 that we were about to make, so I asked the gentleman whether they had ever made the trip and if so what it was like. He said they had and it wasn't too bad. He suggested we buy a book at Camping World called Mountain Directory for truckers and RVers.
WA Route 2, as it turns out, has a 6.5 mile descent with 5-6% grades and 40 mph curves coming off the Cascade Mountains on Stevens Pass heading west. After that brake burning experience, I am happy to find this book. We've learned that steep grades are a good thing to avoid in a motorhome.
We also buy a Auxiliary Brake Carry Bag to store our Brake Buddy in.
Meanwhile the Talisman is getting her oil change and the cats are still in their carriers.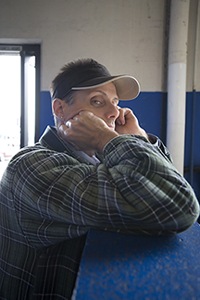 Parry Waits Patiently
I'm worried about them. They've been in there since 7:30 this morning and it's almost lunch time. Parry asks Rori at the service desk if we can get into the coach to feed the cats and let them out of their carriers to stretch and go to the bathroom. Rori tells us that we can as soon as the mechanic goes to lunch.
Rori and Parry hit it off right away. She's a tough girl and you can tell she runs the place with a firm hand. She goes out of her way for us.
We wait in the customer lounge until the Service Manager comes in with news. The mechanic has discovered that our shocks are shot and need replacing. He also suggests that we put on a Davis TruTrac bar. He says that all Ford Class A Motorhomes from 2003 and up come with a front trac bar pre-installed. Not having one was causing the sway bar to be forced off center by excess axle shift.
Do I really understand what this means? No, I want to believe that he and Camping World will be up front with us. I accept that the shocks are bad, probably factory installed, Parry and I had already talked about replacing them. I know nothing about sway bars.
Vehicle safety is a big priority when you're driving your home and everything that's important to you down the road. If it makes the ride smoother and safer at a reasonable cost, it seems like a good idea to me. The brochure he hands me promises "an immediate improvement in both vehicle performance and safety, as well as increased driver comfort". I don't have time to do research. We decide to trust them and go for it.
More time passes and the Talisman is still on the lift, the cats still in their carriers and the mechanic is busy taking off the old shocks.
At 1:30 pm the mechanic lowers the coach and takes his lunch. We go inside, set the cats free and have lunch too.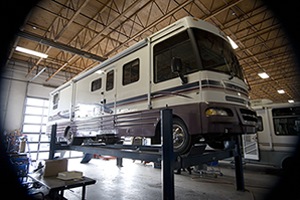 Talisman and the Cats on Air
After everybody eats, we put the cats in the back room and bungie the door shut. Now they can have a little freedom with access to a litter box and we don't have to worry about them escaping the coach and freaking everybody out.
The mechanic finishes up near closing time and we go back to Rori to pay our bill, a whopping $1500 and some change. We tell her that we're going up to Kent, WA in the morning to have our Remco Lube pump in the van looked at. She tells us that they are a Remco service center and she'd be happy to fit us in tomorrow at 1:00 pm. Since the Remco Lube pump is covered under warranty, I ask her if there would be any out-of-pocket expense. She says no. We would rather not backtrack 30 miles to Kent, so we say yes.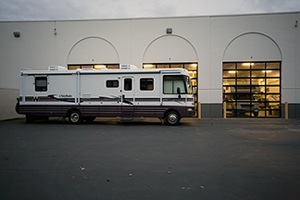 Camping at Camping World
Parry asks if we can stay overnight and Rori tells us that if we wait till the garage closes, we can park behind and plug into their 30 amp receptacle at the back of the building.
At 6:00 pm we set the coach up behind Camping World, then head across the street to Starbucks to get a cup of coffee and see if we can check the weather on their Wi-Fi. It's turns out to be a T-Mobile HotSpot and the cost is $9.95 for a day pass. We already spent over $10.00 for coffee and snacks so we figure it's not worth it.
We go over to Quiznos for a sub, then head back to the coach and watch Jane Eyre on PBS. Seems like everywhere we go we get three stations – PBS, a Spanish speaking channel and a religious channel or FOX News.
Although the subs are good, they're a bit pricey and you don't get much for your money. Quiznos goes on our list of places we'll not go again
Except for someone drag racing up and down the street behind us at 3:00 am, it's a pretty restful night. There's something cool about sleeping in a parking lot.