View From the Campsite at Tall Chief
On Monday we moved 28 miles down the road from Thousand Trails Thunderbird Preserve in Monroe, WA to a Resorts of Distinction campground named Tall Chief in Fall City, WA. This place is wonderful. It's almost a dream campground – old growth forest, spacious private campsites and mountain views. Only thing missing is full-hookups, so we have to be frugal with our water useage while we're here. The putrid smell of grey water backing up into your bathtub is something to avoid.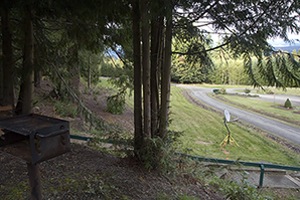 Satellite 150 Feet From the Campsite
Like Thunderbird, Tall Chief also has tall trees and it's tough to get a clear view of the southern sky for satellite internet. With a little persistence and 150 feet of cable we eventually get a strong enough signal to get online.
On Tuesday Parry took the van over to Dodge of Bellevue in Bellevue, WA to have it checked out and see if they could find out what the problem is. By the time they finish with their diagnostic, they find ten things wrong with it at an estimated cost of $3000.00 to repair. Parry paid the $115.00 for the diagnostic and came back home. This is one of the negatives of living on the road, you're at the mercy of local repair shops whom you don't know and are not sure you can trust. Since we're taking the van in to have the Remco Lube Pump looked at at the end of our stay here, we decide to wait on any other repairs.
Today we make our last trip to Seattle. It's been raining but the weather is predicted to be nice. Parry thinks the van will make it, I cross my fingers.
This time we've picked several public parks where it looks like we'll get a good view of the cityscape. We'll be driving around all day and won't be using the parking garage so that will save us $25.00. Our first stop is Kerry Park on the north end of Seattle for sunrise.
It's another cloudy morning, so there's no sunlight to brighten up the city for our morning shots, but then as we're leaving the park we see the Olympic Mountains through a slit in the clouds, the sun lighting up their white snow-capped peaks.
Here are some of the shots from this morning's sunrise in Seattle.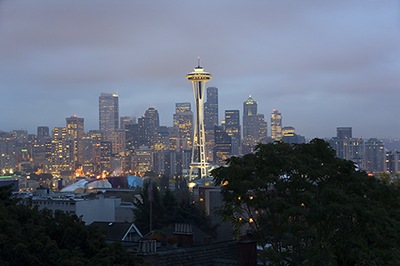 Seattle Sunrise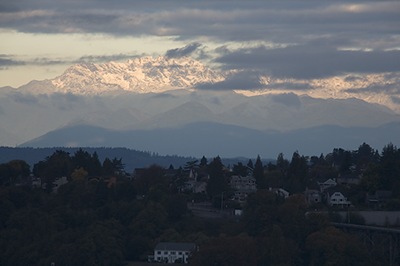 The Olympic Mountains West of Seattle
Our next stop is breakfast. We ask our GPS, aka Amy, where the closest restaurant is and she takes us to a place that's closed. So we ask a gentleman on the street and he suggests the Shanty Cafe which is just a few blocks away. We find free unmetered parking right next to the restaurant.
The Shanty Cafe certainly looks like a shanty but the food is good, the portions are large and the coffee keeps flowing.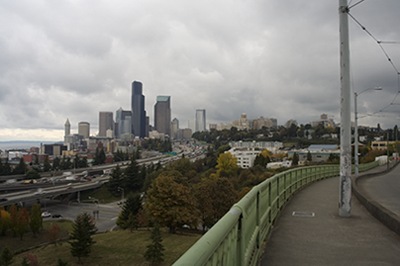 View of the City from Dr. Jose Rizal Bridge
Next we're off to Dr. Jose Rizal Park on the south end of Seattle.
There are some fantastic views of the city from here, especially from the dog park. We do some shooting, but it's cloudy and dark and the city is poorly lit. We decide to come back again later if the sun ever makes an appearance.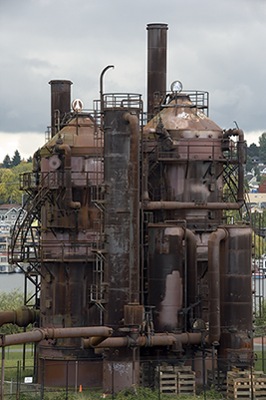 Seattle Gas Light Company Gasification Plant
The Northeast side of Seattle is our next stop, Gas Works Park.
The first thing we see is something I could easily spend several days photographing, the old Seattle Gas Light Company gasification plant, the only remaining coal gasification plant in the US.
The plant operated from 1906 to 1956 and has been closed ever since. Age has given the old machinery a beautiful patina and the geometry of it is enough to keep the eye busy composing for a long time.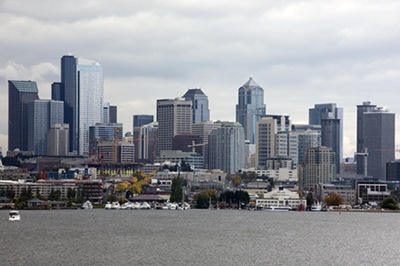 Seattle Cityscape From Gas Works Park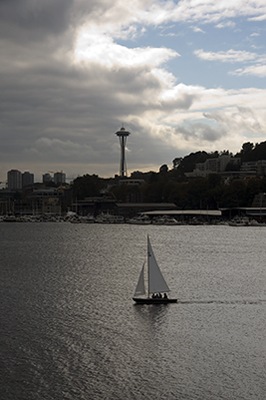 The Clouds Moving Away Over Lake Union
Just as I'm getting into shooting the old gasification plant the clouds begin to move away and the sun shines it's glorious light. We discover, however, that we're now on the wrong side of the city. We need to go back to the south side of Seattle to see the cityscape lit up. So it's back to the van and off to Dr. Jose Rizal Park again.
We've spent alot of time today chasing that illusive image of the Seattle skyline and we're finally rewarded. The city is still in the clouds when we arrive at Dr. Jose Rizal Park, but we set up the tripod and camera and we wait. There are a few people walking their dogs and several homeless people seem to live in the woods behind us. I'm a little nervous about the guy sitting on the bench near me talking in a loud, angry voice to himself, but I've staked out my spot and I'm not leaving until I see Seattle in sunlight.
Photography is a game of patience. It takes at least another 45 minutes before the clouds move out of the way and the city is lit in all it's glory. Here is a short time-lapse video of the wait.
And now I finally realize why Seattle is called the Emerald City. Here are some of my favorite shots from this afternoon: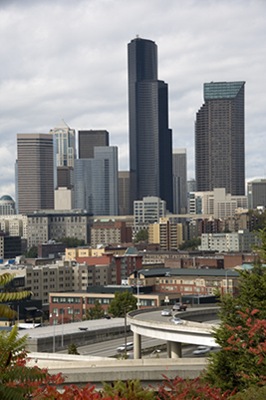 Emerald City I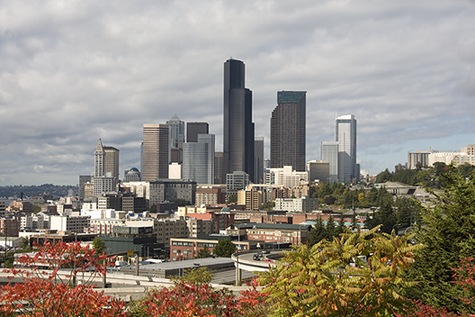 Emerald City II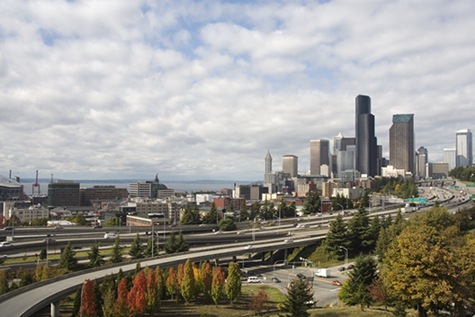 Another View of the City from Dr. Jose Rizal Bridge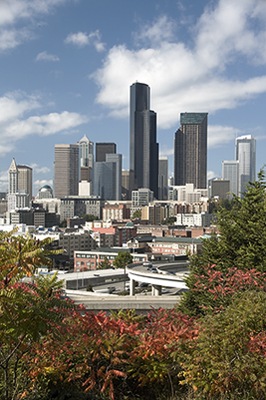 Emerald City III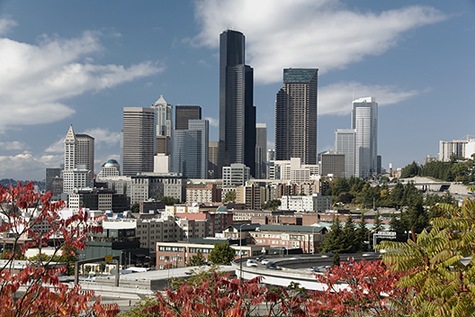 Emerald City IV
We leave Dr. Jose Rizal Park to go in search of food again. It's late afternoon and we want to be back at Kerry Park for sunset. Our GPS Amy is having trouble finding anyplace to eat that looks tempting, so we end up driving around aimlessly until we come across Mioposto.
Mioposto is in Seattle's Mount Baker neighborhood. It's a friendly casual looking place with an interesting menu. We order some grub and take a seat to wait. Then I notice a worker bringing in a few cords of wood which he places in the pizza oven for fuel. Pizza cooked over a wood fire, that sounds too delicious to pass up. We end up ordering two pizzas as well.
We're pretty stuffed by the time we're done eating so we decide to take a stroll around the neighborhood to work some of it off before we head back to Kerry Park.
The days are so short now that by the time we get back to the van we have very little time to make our destination.
We arrive at Kerry Park just before sunset. The park is crowded and there are other photographers set up to shoot. I hurriedly set up the tripod and camera but just as I'm getting ready to take my first shot the sun disappears behind a cloud bank on the horizon not to be seen again. I'm disappointed but I'll shoot the nightscape anyway.
I talk with a fellow photographer who's set up next to me and he says the Seattle weather is usually much nicer this time of year. He mentions some places around the city where he goes to photograph the city skyline and I tell him about our trip to Dr. Jose Rizal Park today. He says he'd never go there, much too dangerous.
Here are some shots from this evening.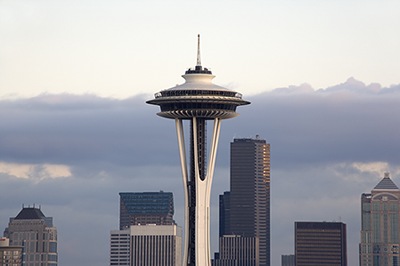 Space Needle Dusk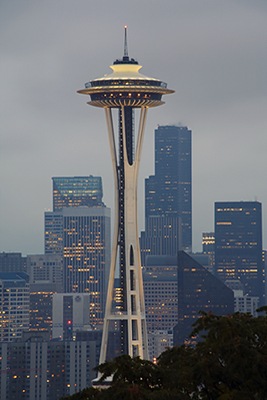 Space Needle Dusk II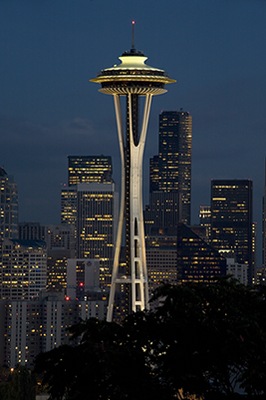 Space Needle Night I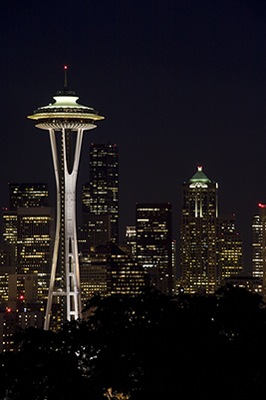 Space Needle Night II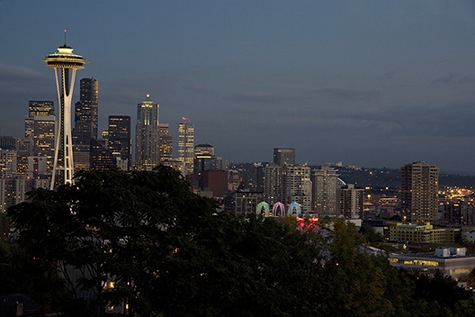 Seattle at Dusk
It's too dark to shoot anymore and it's getting colder so I take a little video footage of the night and we say our goodbye's to Seattle. We're not leaving Tall Chief until Monday but the weatherman is calling for rain the next couple of days so we know we won't be back again during this visit.
All I ever really take away with me when I leave a place like Seattle are the impressions I've gathered from the experiences, the people, the food and the vistas. Three days is not enough to get to know a place, only enough to form an impression and that's what I'm trying to share with the images, videos and sounds that I find along the way.
Seattle is surrounded by some of the most beautiful natural elements you can find on this earth and that in itself makes it a place to want to come back to.