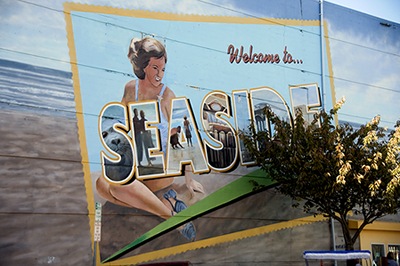 Farewell Seaside
A couple of nights ago Parry introduced me to Becky Everson, a fellow RV'er who gave us some of her home canned tuna, the most mouthwatering tuna I've ever tasted. Becky stops by this morning and gives us a visitor's guide magazine for Astoria. She insists that seeing the Astoria Column is worth the drive and we should do it before we leave.
I'm a bit skeptical. Everyone we meet tells us about some place we have to go, but sometimes they're just tourist traps, which I mostly dislike. I glance through the magazine over breakfast and see a photo of the Peter Iredale shipwreck at Fort Stevens State Park. I'm hooked, I have to see this.
Today is normally packing day. We're leaving Seaside, OR tomorrow heading for Neskowin, OR where we'll stay for 19 days at the Neskowin Creek RV Resort. Since the weather is so beautiful and Neskowin is close enough that we don't have to spend all day tomorrow traveling, we decide to go exploring instead.
Parry wants to see the Astoria Column too, so I agree that we should go to Astoria after we take Flat Stanley to Seaside for his photo shoot.
We drive into Seaside and make our way to the Promenade to photograph Flat Stanley with the statues of Lewis & Clark.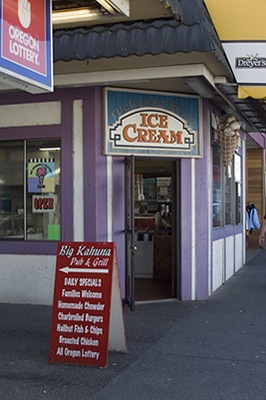 Our Most Visited Place in Seaside
While we're in Seaside, we visit the ice cream parlor for the last time.
The little oriental woman is there with her elderly waffle making companion and we're glad to see them both.
I often think of how monotonous it is to be doing the same thing in the same place day after day and yet I really appreciate those who do. It gives this ever changing life a bit of stability and there's some comfort in that.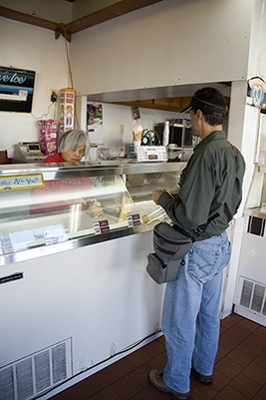 Parry Gets Ice Cream
I ask the two ice cream vendors if I can get a photo of them together, but they're shy and refuse.
The waffles are fresh and the ice cream is tasty as usual.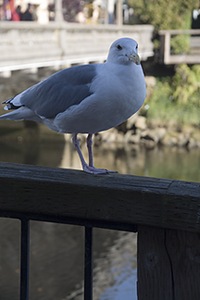 Seagull With a Sweet Tooth
We take one last walk around town as we finish off our sweets, stopping only to take a few photographs and feed a wayward seagull some pieces of waffle cone.
Then we say goodbye to Seaside and drive 17 miles north to Astoria, OR at the mouth of the great Columbia River.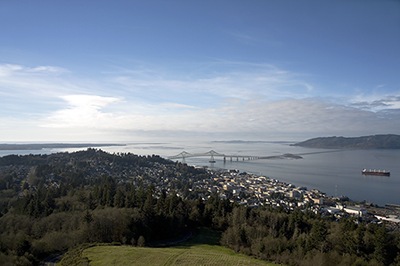 Astoria and the Mouth of the Columbia River
as Seen From the Astoria Column
Once we hit Astoria we start looking for the column. It turns out to be easy to find since it's the highest structure in town.
The van has a little trouble making the steep climb to the column, but once there its quite a vista.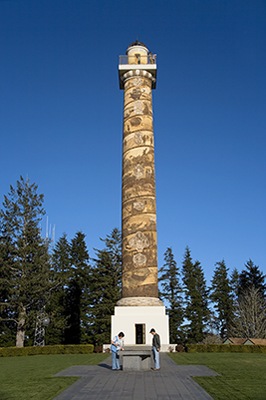 Astoria Column
The Astoria Column was dedicated in 1926, then received a million dollar face lift in 1995.
Coxcomb Hill, where it sits, is 600 feet above sea level and the column itself rises another 125 feet.
There are 164 steps and I find out just how out of shape I am after climbing them. It takes me a few minutes to recover but the climb is worth it.
Here are some of the images from that climb: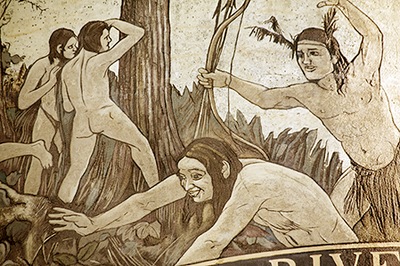 Detail View of Sgraffito Exterior Artwork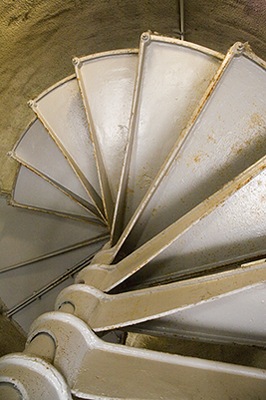 Looking Up the Column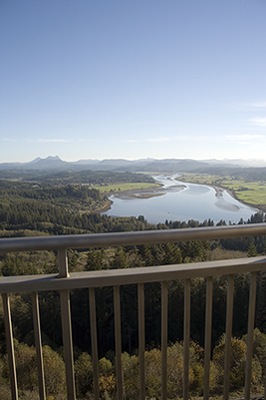 View From the Top Looking South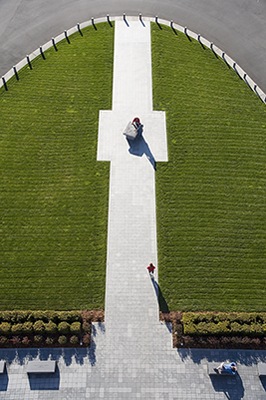 View Looking Down at the Plaza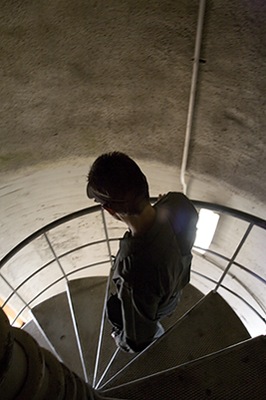 Climbing Back Down the Column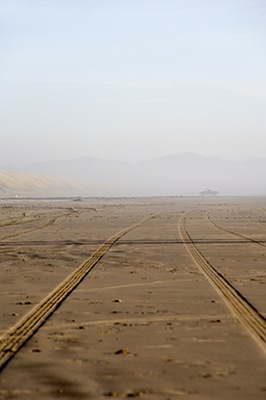 Beach at Fort Stevens
We leave Astoria and head over to Fort Stevens State Park in search of the Peter Iredale.
The ship was driven ashore on October 25, 1906 by a heavy northwest squall.
No crew members were lost and an investigation absolved the captain and crew of any blame.
There were plans to tow the ship back to sea, but after waiting several weeks for good weather it was too late, the ship had become embedded in the sands.
After 100 years of deterioration, there's not much left of the Peter Iredale, but the wreck is still hauntingly beautiful.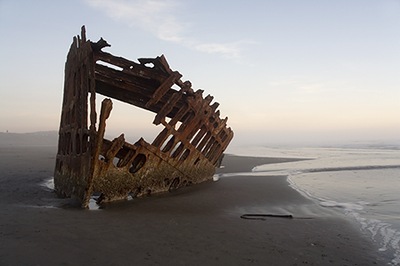 The Peter Iredale Today
This is a great time of year to be here. Except for a few curious sightseers, the beach is pretty empty. The moon is rising in the east behind the wreck and the tide is coming in. Parry's watching my back so I don't get hit by a sneaker wave. I keep shooting until the sun disappears and the sea slowly claims the Peter Iredale once more.
Here are some of my favorite shots from this evening:
"May God bless you, and may your bones bleach in the sands."
Captain H. Lawrence's final toast to his ship, the Peter Iredale.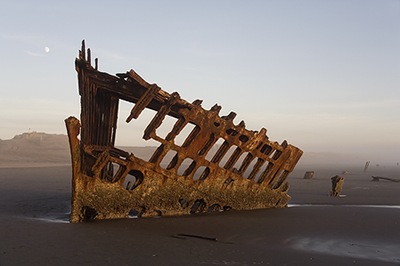 Peter Iredale I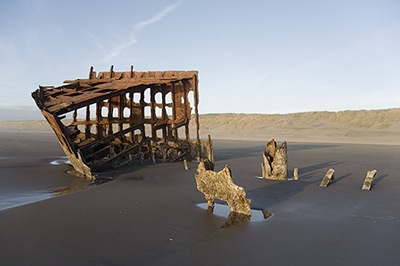 Peter Iredale II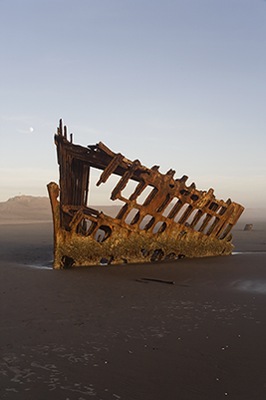 Peter Iredale III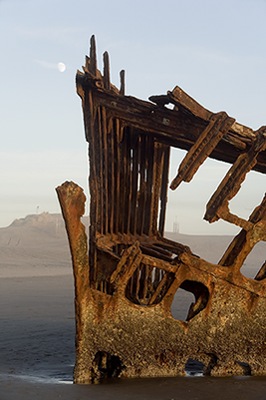 Peter Iredale IV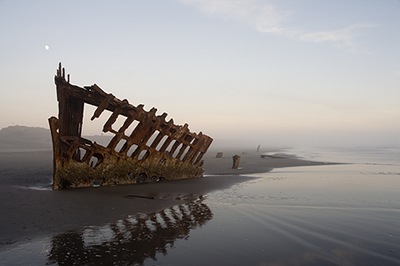 Peter Iredale V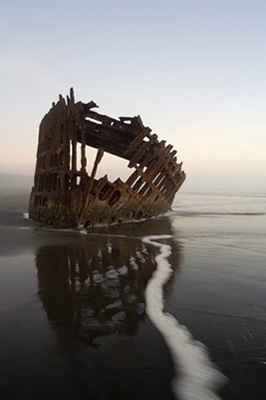 Peter Iredale VI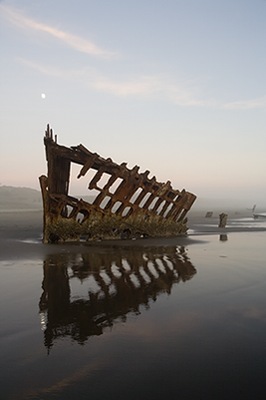 Peter Iredale VII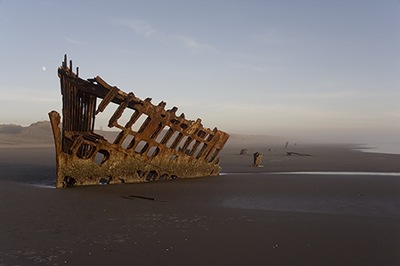 Peter Iredale VIII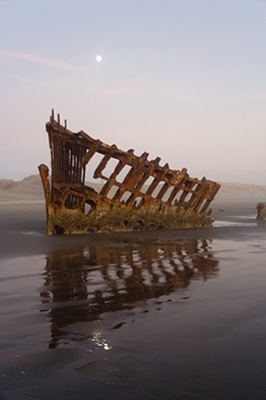 Peter Iredale IX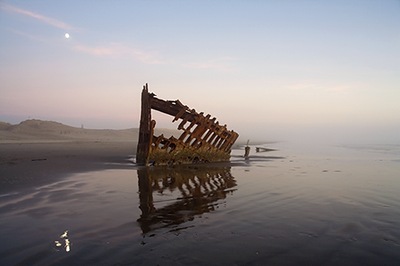 Peter Iredale X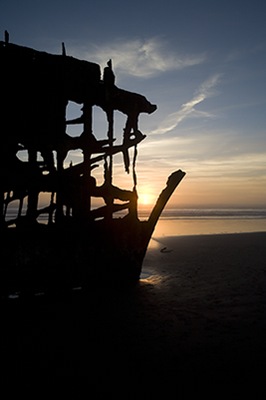 Peter Iredale XI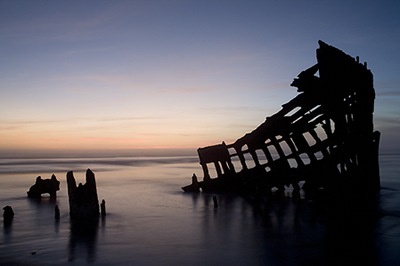 Peter Iredale XII