I'm a little sad to be leaving Soap Lake, WA this morning. It's the first 21 day stay we've had since we've been on the road and I found that quite rejuvenating.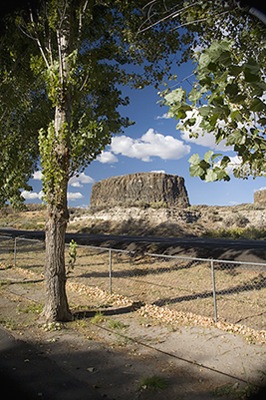 Big Rock at Soap Lake
There's something a bit mysterious about Soap Lake RV Resort. I don't know if it's the healing qualities of the water, the haunting sounds of the coyotes at night or the way the wind roars overhead making the rows of large poplar trees sway like giant puppets while barely disturbing the air below.
So I take one last walk around, attempting to burn the memory of this place into my mind so I never forget. I want to return to Soap Lake.
Today we climb the mighty Cascades via WA Route 2 and Stevens Pass. But before we brave the mountains, we plan a stop at Ohme Gardens in Wenatchee, WA.
Originally we were going to take Interstate 90 over the mountain range but decided that the scenic route would be more interesting. I'm still a little leery about the climb and the descent.
We arrive at Ohme Gardens, which is a steep climb in itself, and have lunch under the trees before going in to explore the grounds.
A Class C motorhome pulls up in front of us and I take the opportunity to ask the gentleman if they had ever driven over Stevens Pass and if so, how was it.
He said it wasn't bad and suggested that I buy a book at Camping World called Mountain Directory for truckers and RVers, which will tell us all about steep grades, where they're at and what to expect when driving them.
We enter the garden wearing our flannel jackets because its breezy and cold. There aren't many plants blooming this time of year, but the garden is still lush with greenery on what should be a desolate mountain.
Built mostly by hand by Herman and Ruth Ohme over a period of 42 years beginning in 1929, the garden is truly a peaceful paradise with spectacular views.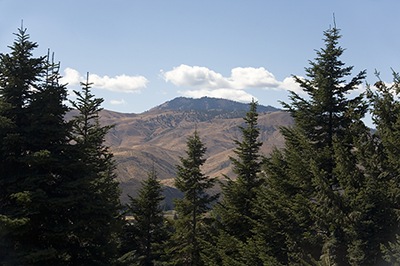 View From Ohme Gardens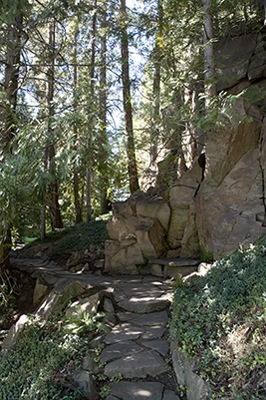 One of Many Stone Pathways
Its filled with hand laid stone paths and staircases, dotted with blue-green pools and a wishing well, stone benches and a complete stone picnic table with seats to match.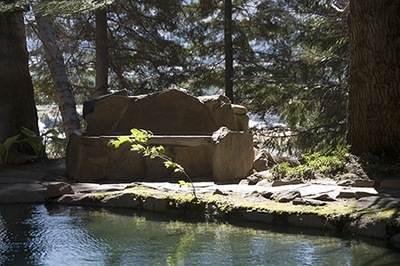 Bench Made of Stone
Parry loves it, of course. This is the kind of project he dreams of doing himself.
We climb up and down and all around and by the time we leave the garden it's hot and we're sweating, wishing we hadn't worn our flannel jackets.
Next it's off to Thousand Trails Thunderbird Preserve in Monroe, WA.
It turns out to be day of contrasts. We go from the peaceful, relaxing waters of Ohme Gardens to the nail biting but incredible drive over the Cascades.
We take our time traversing those peaks and by the time we get to the bottom we smell our brakes overheating. A couple of drivers blow their horn at us as they pass and one gives us the finger, but I figure if they were driving their entire household down a mountain, they'd be a little more cautious too.
Here's a ten minute video of the drive with a stop at Ohme Gardens.
A few shots from the road: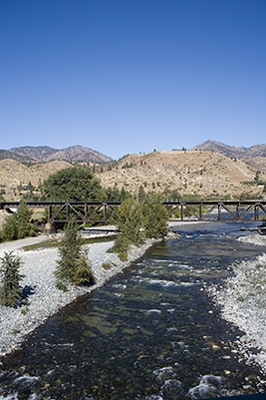 View From the Cockpit 1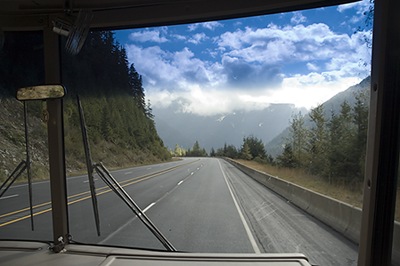 The Descent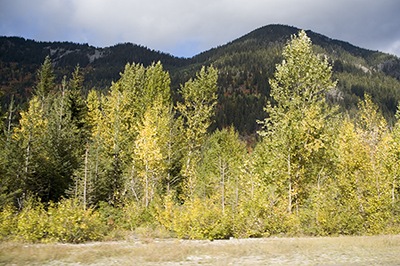 View From the Cockpit 2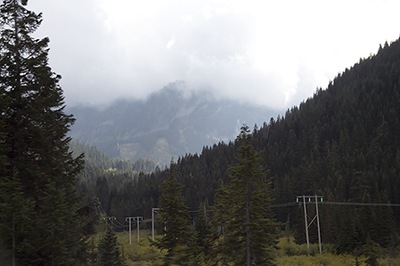 View From the Cockpit 3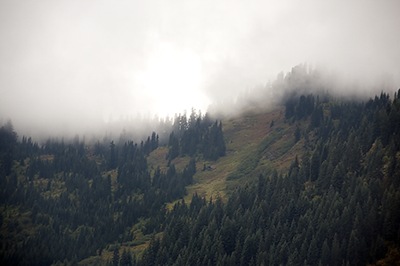 View From the Cockpit 4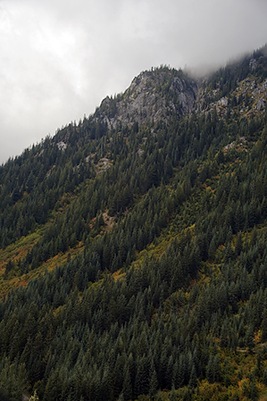 View From the Cockpit 5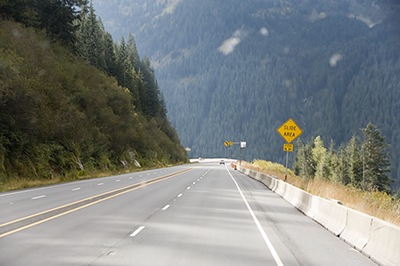 Slide Area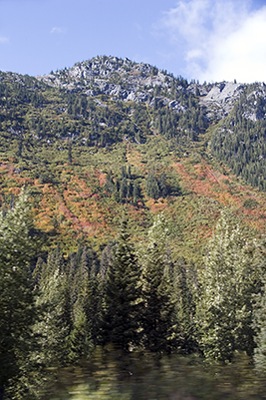 View From the Cockpit 6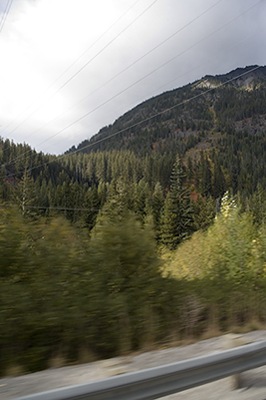 View From the Cockpit 7
I'm never sure what the cat's experience is of these drives, especially one like today. Here they are relaxing after we get set up in Monroe, WA. They usually fight over this chair, tonight is the first time they've shared it.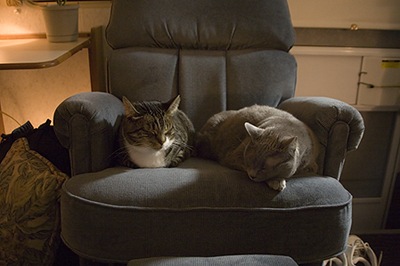 Buddy & Benny Relaxing After a Long Ride