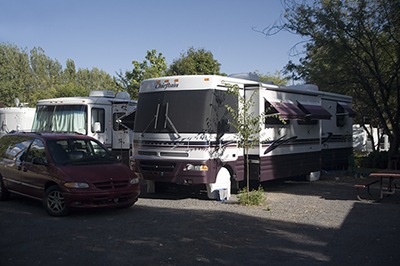 Campsite at Soap Lake
We're staying at a Resorts of Distinction park called Soap Lake RV Resort. We're here for 21 days. This is the first time we've stayed in one place for more than two weeks since closing on our house in April 2007. After our Wild Wild West journey across the north this will be a nice respite.
Like Hidden Bluffs Resort in Minnesota we have no cell phone connection and again our mini Wilson Magnetic Mount Cell Phone Antenna doesn't help, so we have to drive into town on the other side of the lake to make our calls.
We arrived the day before Labor Day and when we awoke Labor Day morning I made an executive decision to take the day off and play. It was a warm sunny day so we headed down to the pool to play water volleyball with a friendly group of people who were there for the holiday weekend.
The plan was to get caught up with our travel blogs before we head over the mountains to Seattle, but it hasn't exactly worked out that way. I've had work for clients to complete, which is always a good thing for the checkbook, and I also got the cleaning itch.
Maintenance Issues
I ended up spending several days attempting to deoxidize the exterior of the coach and put on a new coat of wax. I used Protect All Fiberglass Oxidation Remover & Color Restorer.
I'm not totally satisfied with the results. This product removed much of the oxidation, but the wax in it seals the surface before all of the oxidation is gone. I ended up with smeary spots of oxidation under the wax that I couldn't get off. What I need is a separate oxidation remover without the wax.
I also used Full Timer's Choice Slide Out Rubber Seal Conditioner on the rubber seals around the slideouts. This is supposed to keep them lubricated and protect them from UV damage. And I sprayed silicone on the slideout mechanisms to keep them sliding smoothly.
This is the first we've been in a dry climate, so it was also a perfect time to shampoo Buddy's litter box compartment. I highly recommend a product called Urine-Off from Bio-Pro Research available at www.urine-off.com. I have tried practically every enzyme and urine eliminator product on the market. This one truly works.
This is the unglamorous part of the RV lifestyle and we're just beginning to learn about all the things that have to be done to maintain. Suggestions are always appreciated.
A Brief History of Soap Lake
Soap Lake gets its name from the slick, soapy feel of its mineral-rich waters and the foam which forms on its surface giving it a soapy appearance.
Over the centuries, people have been willing to travel great distances to experience Soap Lake's legendary health effects. Native Americans who first came to drink and bathe in the waters called it "Smokiam," which means "healing waters." In the early 1900s the town of Soap Lake was filled with large wooden structures they called "sanitariums" which housed the sick and hopeful. The waters seemed especially successful at treating Buerger's disease, a painful vascular malady that struck many World War I veterans. So much so, the federal government opened a veteran's hospital in Soap Lake in the late 1930s.
Soap Lake was formed after the last ice age, about 13,000 years ago by catastrophic flooding from Glacial Lake Missoula. It is the last in a chain of 8 lakes, which originally fed into one another, increasing the mineral content of each subsequent lake. Minerals include:
Sodium
Bicarbonate
Sulfate
Carbonate
Chloride
Potassium
Organic nitrogen
Fluoride
Ortho-phosphate

Nitrate
Calcium
Magnesium
Aluminum
Iron
Copper
Rubidium
Lithium

Strontium
Barium
Chromium
Lead
Manganese
Titanium
Vanadium
Boron
The lake has two layers, the bottom layer being the most dense with minerals. The two layers have not mixed in thousands of years. This rare condition is known as meromictic. Only 11 meromictic lakes exists in the United States, Soap Lake being the most extreme.
The lake is approximately 2 mi in area and 70 feet deep. Its mud smells like rotten eggs. The alkaline waters of Soap Lake don't support much life, no fish inhabit the lake, but tiny brine-like red shrimp flourish in the water. If you look carefully you can see them swimming around.
The alkalinity of the lake is similar to that found on the moons of Jupiter, so in 2002 the National Science Foundation awarded a grant to researchers from Central Washington University to study the lake to learn about the possibility of life on Mars.
If you really want to know more about Soap Lake there is a video, A Window to Soap Lake's Past, that is put together quite well. I purchased a copy at a local coffee shop in town, but it is also available through Amazon.
Here's a brief bicycle tour of the Soap Lake Rv Resort.
A Lesson in RV Etiquette
After our large awning almost blew away at the Old West RV Park in Reed Point, MT we decided to use our wind chimes as an early warning system. If a sudden wind came up while we were sleeping, we'd here the chimes and go out and bring the awning in.
Well, during a particularly windy night our next door neighbor Neil taught us that wind chimes are an RV faux pas. He was diplomatic about it, but we got the message that our chimes woke him as well.
Benny Proves Again That He's The Smart One
Benny was the first to learn how to open the screen door by giving it a push, so we had to install a latch. During our stay here, he figured out how to open the screen door slide and was caught jumping through the small opening. Until we come up with a better solution, we'll have to keep a bungie cord on the screen door slide to keep it shut as well.
After Benny's disappearing act at the R & R Campground in Mitchell, SD, Parry spent some of his time building a screen cage to keep him from getting under the RV's dashboard again.
Now we have to figure out a way to keep him from chewing electrical cords.
September 15, 2007 – Moses Lake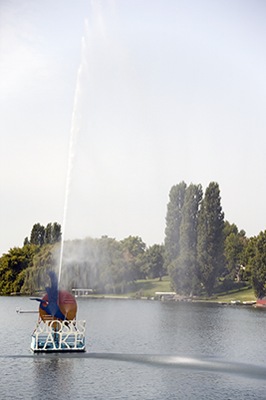 Water Fountain in Moses Lake
On Saturday, September 15th we drove to Moses Lake, WA. Someone in the park suggested we check out the farmer's market there for fresh produce. We were also told that the water fountain in Moses Lake was worth driving to see. Judge for yourself.
The farmer's market was a small outdoor affair, nothing like the big markets we're use to in PA. We bought some fresh fruits and vegetables, grabbed a bite to eat and met a lady from Soap Lake who actually makes soap from the mud and water of the lake. We bought some of the healing bars to send to our Moms and a couple for ourselves.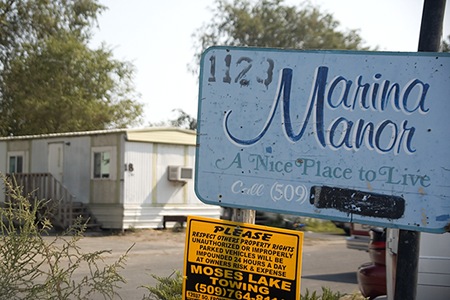 A Nice Place to Live
After our visit to the market we took a walk around downtown Moses Lake. Although some of the houses along the lake looked fairly upscale, the town itself seemed a bit depressed.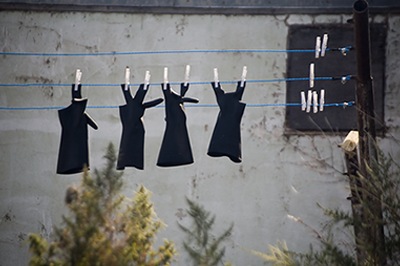 Drying Gloves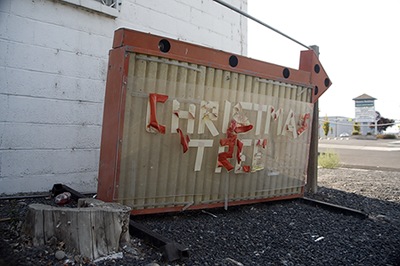 Christmas Tree
September 16, 2007 – Breakfast at the Mad Hatter and Snacks with Wendy and Norm
On Sunday, September 16th we had breakfast at the Mad Hatter Cafe in Soap Lake. We heard they served heaping portions of food with a dash of humor. It's true. Mad Hatter Cafe is a small joint with a bent towards the absurd and plates full of great tasting home cooked vittles. Check out their website for an explanation of where the term Mad Hatter originated
That evening our new neighbors Wendy and Norm from Seattle invited us over to their place for a little Happy Hour of snacks and refreshments. Norm is especially animated and high-spirited while Wendy is more composed and serene. They compliment each other well. We played a game of Mille Borne with plenty of laughs.
Before we left, Wendy gave me a list of natural cleaning remedies for the RV and a list of places we should see while we're in Washington state. We're learning that RV'ers are the most helpful people, always willing to share what they've learned. If we're lucky we'll run into Wendy and Norm again down the road.
Sept 21, 2007 – Dry Falls
Parry finally got his camera back from the repair shop on Monday, Sept 17th and has been anxious to go out and do some shooting.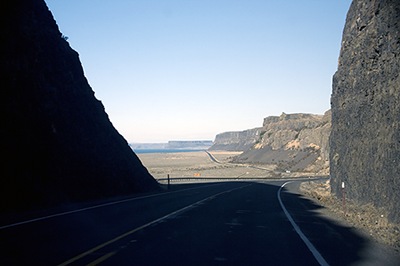 Up Route 17 to Dry Falls
Our stay in eastern Washington was quickly coming to and end, so we decided come rain or shine we were going to do some touring before we left.
We drove to Dry Falls which is 18.5 miles north of Soap Lake. The drive up Route 17 is worth the trip by itself as it travels parallel to Lenore, Blue and Park Lakes.
Dry Falls is 3.5 miles wide with a drop of over 400 feet. By comparison, Niagara Falls is one mile wide with a drop of only 165 feet.
Dry Falls is believed to be the greatest waterfall to have ever existed. The falls actually started near Soap Lake but the eroding power of the water pushed it back to its present location. The falls flowed for several thousand years before the Columbia River returned to its normal course leaving the falls desiccated.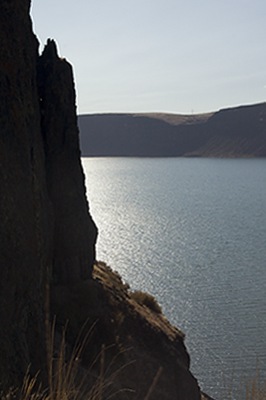 The Road to Dry Falls I
The Road to Dry Falls II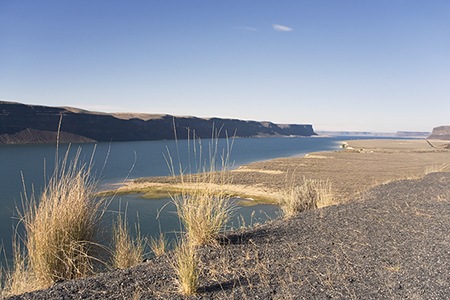 The Road to Dry Falls III
When we arrived at Dry Falls we really had no idea what we were looking for. I had a picture in my mind of what a huge dried up waterfall would look like, but I didn't see anything in the landscape that matched my imagination.
We followed a sign pointing to the falls that lead us down a dirt road full of big gullies, holes and rocks. We later learned it was taking us to the bottom of the falls where a few small lakes still exist. I had no idea while we were down there that we were looking up at Dry Falls. From below we saw a strange looking square building that turned out to be the Visitor's Observation Center for the falls.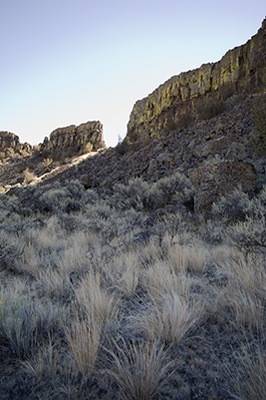 Dry Falls From Below I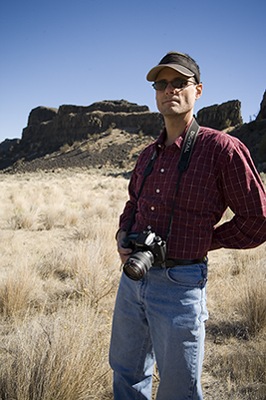 Parry Below Dry Falls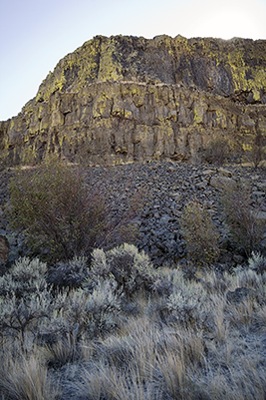 Dry Falls From Below II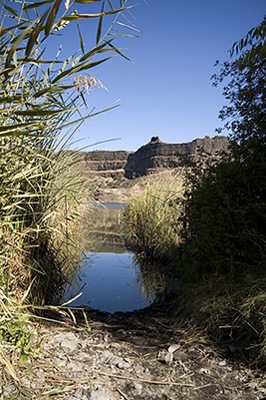 Dry Falls From Below III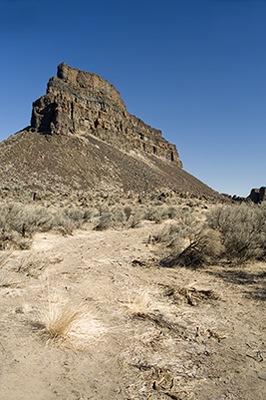 Dry Falls From Below IV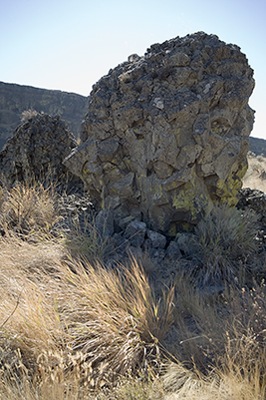 Dry Falls From Below V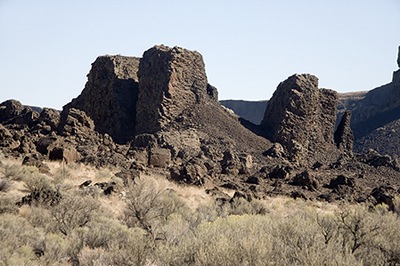 Dry Falls From Below VI
We slowly made it back up the winding road which was really meant for off-road vehicles not a Dodge Caravan, and ended up at the Dry Falls Visitor Center. There we were able to see the true extent of the great flood's power. It's easy to visualize what the mighty torrents of water looked like as they cascaded over the cliffs pummelling the land below.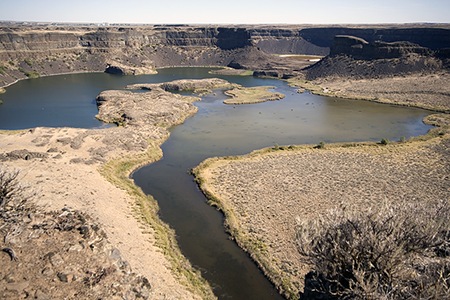 Dry Falls From Above I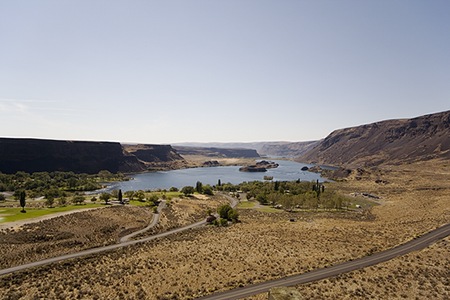 Dry Falls From Above II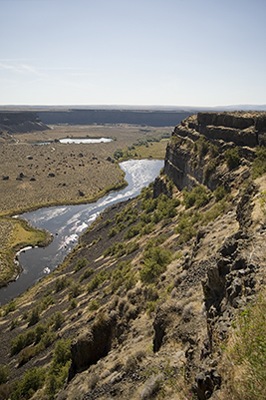 Dry Falls From Above III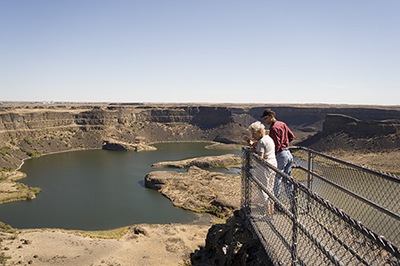 Dry Falls From Above IV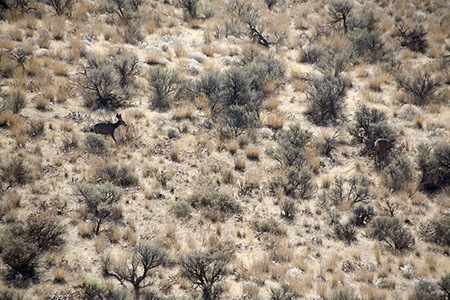 Dry Falls – Find the Deer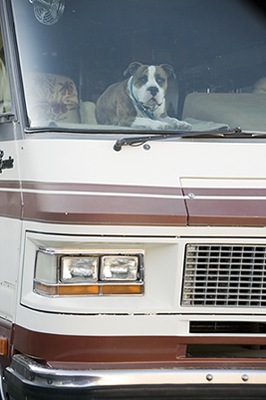 A Fellow RV'er taking a Break
After visiting Dry Falls we kept heading north on Route 17 to Coulee City where we stopped at the Coulee City Diner for an all you could eat shrimp dinner.
Having overstuffed ourselves, we dragged our bodies out of the diner and continued up Route 155.
We drove past Banks Lake and the Steamboat Rock to the Grand Coulee Dam. There we ran into a fellow traveler in the parking lot of the Visitor's Center.
The light was unflattering on the dam at this time of day and I felt uninspired to take many photographs, so we went into the visitors center and played with the virtual tour.
We didn't realize at the time that we could have taken a real tour.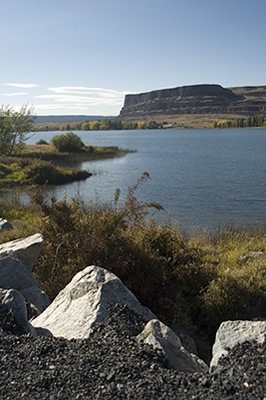 Steamboat Rock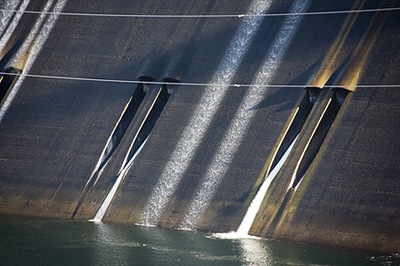 Grand Coulee Dam
A Few of My Favorite Things
I love Soap Lake and I'm finding it hard to leave. Maybe it's because this is the most relaxed I've been for several months. But it may also be the dry climate, the ghostly sounds of coyotes on the cliffs at night, the otherwordly landscape, the giant poplars swaying in the wind, the unusual lake and its equally unusual smell, smoke in the weather forecast and the friendly people we've met that help make this an extraordinary place.
The nights at Soap Lake were most mysterious. Here's a little glimpse of some of the night sounds we heard. A big thank you to the traveling vocalist, Cathy Peaks.
September 22, 2007 – Which Way Next?
For several days we've bounced back and forth between taking the safe route over the Cascade Mountains which is Interstate 90 or the scenic route WA Route 2, otherwise known as Stevens Pass. On the one hand we don't want to stress the RV climbing hills. On the other hand you only live once and we came here to see beautiful vistas, plus Parry wants to stop at Ohme Gardens.
Tomorrow we leave for Thousand Trails Thunderbird Preserve in Monroe, WA. driving over Stevens Pass. From there we'll visit the next city I've been looking forward to experiencing – Seattle, WA.