The cheerful desk clerk at Rock Glen Family Resort tells us about the Rock Glen Conservation Area which happens to be right across the street from the campground.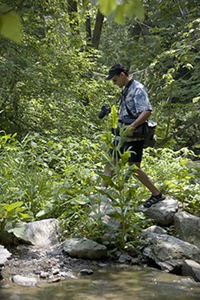 Parry Jumping the Rocks
Both Parry and I have been working behind desks for quite a few years and we realize we need to start getting into shape if we expect to make this journey a success. We put on our new hiking sandals and head over.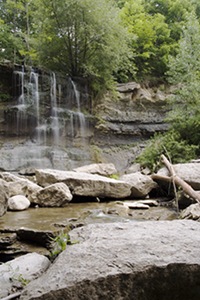 The Falls Speak
We can hear the falls as soon as we enter the park so we move in that direction. The area is well maintained with trails and stairs and boardwalks built throughout. We climb down a set of stairs, over a few rocks and we're there.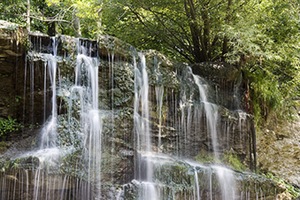 The Little Falls
We hear that this is the best place to find Devonian era fossils. I'm not sure I will know a Devonian fossil if I see it, but I look for one anyway.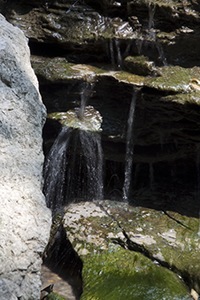 The Falls Close-up
Except for a few people and a small frog, we have the falls to ourselves so both Parry and I do some shooting.
We trek up, down and around the conservation area until we are too hot and tired to walk anymore.
Here is a short video of the falls. Note how Parry takes it upon himself to rearrange nature.