Another location that the desk clerk at Rock Glen Family Resort tells us about is Grand Bend on Lake Huron.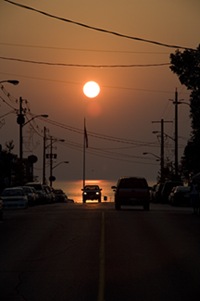 A View Down Main Street
My first impression of Grand Bend is that it's a place for people in their twenties and thirties to hangout and let off some summer steam. But as we make our way down Main Street to the beach, we find that there are other rythms as well.
When we get to the beach there's a song playing over the music system. The sound is crystal clear, haunting…… beautiful.
In the moments that follow, I'm overcome by the feeling that this is the way it is supposed to be…… and I realize that no matter what eventually happens to Parry and I, we made the right decision to change the direction of our lives. This is what it feels like to live free.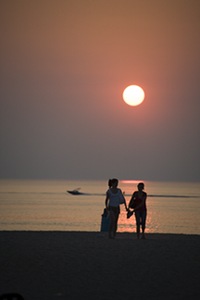 Last Light Approaches
We stop in a little shop at the Queen Street Strip Plaza called ThempTATIONS, hemp goods and culture shop. I discover hemp t-shirts that feel good to the skin and decide to buy one that reads "Buy Hemp, Tread Softly".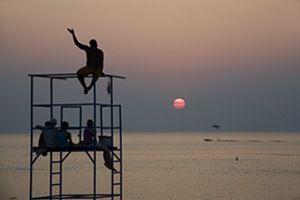 Waving Goodbye to the Sun
We have dinner at J-Dee's Summerhouse at 23 Main Street, then walk back to the beach to watch the sun set over Lake Huron and say farethewell to Canada.
Tomorrow we leave for St. Clair, MI where we will stay for two weeks and visit the Motor City – Detroit.
Take a mini walk down Main Street in Grand Bend, Ontario with this short video.