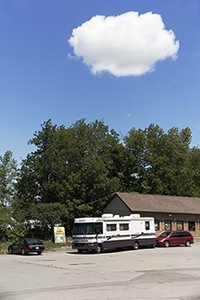 Getting Gassed up at Smokin Joe's
The trip to Arkona, Ontario from Lockport, NY is the second time we cross the border into Canada. We find that it's easier to get into Canada than it is to get back to the US. Before we leave New York, we stop at 'Smokin Joe's' for gas and hot dogs.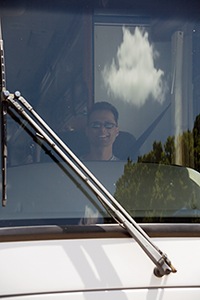 Parry Smokin at Smokin Joe's
I don't know how Parry does it, but he gets the rig in and out of 'Smokin Joe's' without any problem.
I'm still not used to going down the road in this big rig. After all we have our whole house, most of our belongings, two cats and our Dodge Caravan with us. It makes me just a bit nervous, to say the least. To keep my mind off the traffic, I calm myself by playing with the video camera. This little video gives a tour of the RV while on the road.