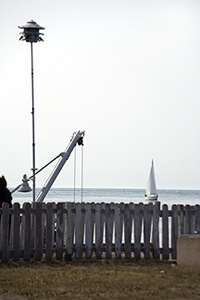 A View of Lake Ontario from Niagara on the Lake
While we were staying in Lockport, NY we decided we'd travel up to Niagara Falls which was only 25 miles away. I read in our campground newspaper that the falls are illuminated at night starting at 9:00 pm.
Both Parry and I had been to the American side of the Falls but neither of us had seen the Canadian side. A client and friend of mine suggests that we also check out Niagara on the Lake, Ontario, a small town at the mouth of the Niagara River on Lake Ontario.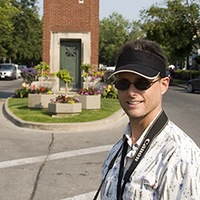 Parry in His New Hat
Niagara on the Lake is a tourist town with a lot of little offbeat shops and restaurants. Parry actually surprises me by buying himself a brand new hat. He rarely spends money on clothing for himself.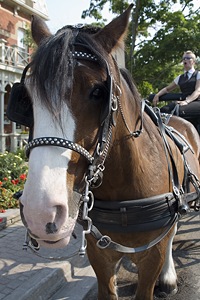 This One is For Karen
This horse and carriage driver from Niagara on the Lake are nice enough to pose for our friend Karen Isaacman who graciously let us stay at her horse farm before we left Harrisburg, PA. Thank you Karen!!!
We eat dinner at The Stagecoach Family Restaurant at 45 Queen St. Having no idea what it is, we order the special of the day, a Western Sandwich with fries. It turns out to be a fried egg sandwich on toast. Then we drive off to the Falls for the illumination.
We arrive at Niagara Falls, Ontario a little before dusk. The Falls are phenomenal of course. The casinos, hotels and other tourist trappings, errr… not so great. I feel like I am at an amusement park rather than one of the natural wonders of the world. I find it more enjoyable to imagine what it was like before civilized man came along.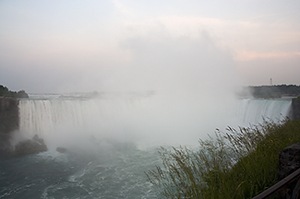 A View of the Falls
The mist from the great Falls make it difficult to see clearly, not to mention you can get pretty wet if the wind happens to be blowing in your direction (which we do). We have a better view of the American Falls from this vantage point.
It is a gray time of day and not the greatest natural lighting for the Falls, but once the sun goes down, civilized man makes them glamorous again.
Here are a few shots from that night. Click thumbnails for a larger view.

This little video is a glimpse of our experience at Niagara Falls, Ontario.