We stay for a week in Lockport, NY at the Niagara Lazy Lakes campground. We spend this time getting a little more organized, making a few minor repairs and enjoying some much needed R&R.
Since we put our house on the market on March 1, 2007, it has taken unrelentiing effort to make this trip a reality. This is our first opportunity to stop and ask ourselves 'What the heck were we thinking?'.
Parry is truly into the camping aspect of it all. He loves sitting around the campfire watching the flames. Here he is collecting wood around the campground and organizing it for future burning. Those who know him can appreciate this. Too bad he never actually gets to watch any of it burn, the mosquitos are so bad that he can't bear to be outside at night.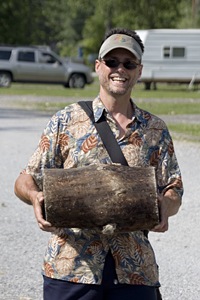 Parry Brings Home Big Wood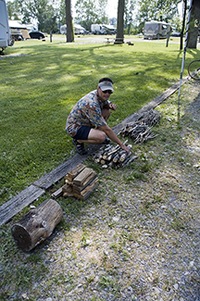 Parry Organizes the Firewood
Parry also spends alot of time working on his travel logs and his blog. You can check it out here.
This is the first location on our journey that I've never actually been to before. There are unusual trees here in Lockport that rain little cotton balls. I wake up one morning, look out the motorhome window and am amazed to see it snowing in June. I try to capture this on video but the little buggers prove to be illusive.
This is also the first time I've picked up my camera again in many weeks. As with any skill, you need to keep practicing. My favorite subject here is the lakes. I like the way the afternoon light gives dimension to the feathery plant life at the bottom of the lake. The fish are an added bonus.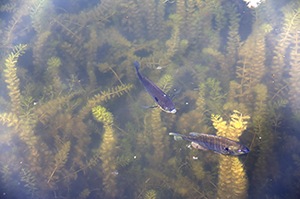 Hungry Anyone?
Other fascinating inhabitants of the lakes are the fake swans. Two in particular catch my attention. They are always seen swimming together and seem to be inseparable.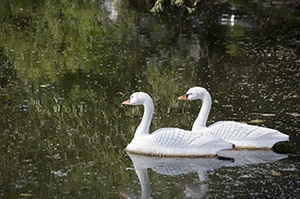 Fake Swans Provide Campground Ambience
We don't meet any of our camping neighbors except for a gentleman who puts out a stand in front of his motorhome with free Bible literature. He has Jesus and Mary faces on either side of his front window that follow you as you pass by and a cross made with LCD lights mounted to the front of the coach that's always lit. He invites us to service down at the family center on Sunday where he will be preaching.
This is also the first time I realize how vulnerable we are out here. A passing storm is pretty violent. So much so that it shakes the entire coach. The cats freak out, the thunder and lightning are intense and large tree branches fall all around us. I feel like the fourth pig of the Three Little Pigs, the one living in the tin can.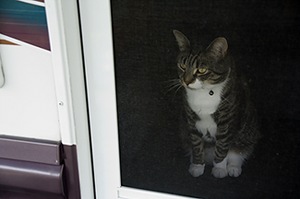 Benny Watches the World Go By
Meanwhile the cats are adjusting just fine. Since they had no say in the matter, I feel a bit guilty about moving them from a spacious house with a big yard to a 36′ motorhome. But I begin to believe they may like this new life.
Here's a little 4 minute video that captures the essence of our experience in Lockport.