We arrive in St. Clair and begin quickly setting up camp so we can go into Detroit for the Freedom Fest which takes place tonight. Neither of us has ever been to Detroit and we have no idea how long it will take us to drive in.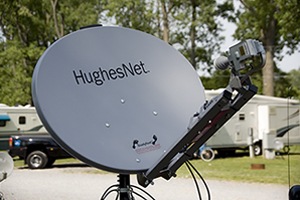 Our Connection to the World
I work on setting up the satellite dish but have problems getting a signal. The site we pick is one my favorites – big space, shaded in the back, open in the front – but there are a few trees directly across the road that are blocking the satellite signal and I don't have enough cable to set the dish out any further. The gentleman in the motorcoach next to ours, Larry Aures comes over to offer some advice on where to place the dish.
I mention to Larry that we are driving into Detroit for the Freedom Fest this evening and Larry warns me not to go. He tells me he was brought up in Detroit and knows the city well. He gives me the impression Detroit is a dangerous place and we would be putting our lives at risk if we went in, especially at night.
Larry returns to his coach and another gentleman is driving by and stops. His name is Stacey Frank and he also has a HughesNet satellite dish. We chat about the dishes and then I mention to him that we were thinking of driving into Detroit for the Freedom Fest but heard that it may be dangerous. He tells me we should go and proceeds to give me directions to the place in Detroit we need to be for the festivities. A few mintutes later a thunderstorm blows in and I give up on the satellite for the day.
I mention my conversations to Parry and we deliberate about whether to go into Detroit or not. We decide to take our chances. We grab something to eat and off we go.
We end up taking a wrong turn and find ourselves driving through a neighborhood on Lake Michigan that is opulent and beautiful. I'm thinking 'We have to be scared of this?'. Then suddenly the neighborhood changes. The mansions are replaced by all night liquor stores, bars and abandoned buildings.
We see the city skyline ahead and know we are close but traffic is getting heavier. We realize that the fireworks will be going off in about 15 minutes and we have no place to park and no idea where to even look for a space. All we can do is to keep inching our way through traffic. Suddenly a guy jumps out in front of the van and waves us into a spot. The only spot left in his lot. We thank him, pay ten bucks, grab our equipment, walk to the nearest corner and start looking for a place to shoot from. We have 5 minutes.
When I pre-visualized the shot I wanted I saw it with the cityscape in the foreground, fireworks in the background. The view from that corner had a view of the city in the foreground and as an added bonus, a full moon in the sky. I quickly set up the tripod and camera. Larry's warnings kept creeping back into my thoughts and I was a little nervous about being in an unfamiliar neighborhood, but once the fireworks started I had that feeling again that this was meant to be.
Here is a five minute video with the unedited photography and some highlights of the Freedom Fest fireworks as seen from the parking lot on the corner of Brush & Gratiot Sts. Video portions compliments of Parry Pannozo.